Easy Healthy Breakfast
now browsing by category
Breakfast bowl recipes for an easy healthy breakfast using  granola and muesli with special toppings to aid nutrition.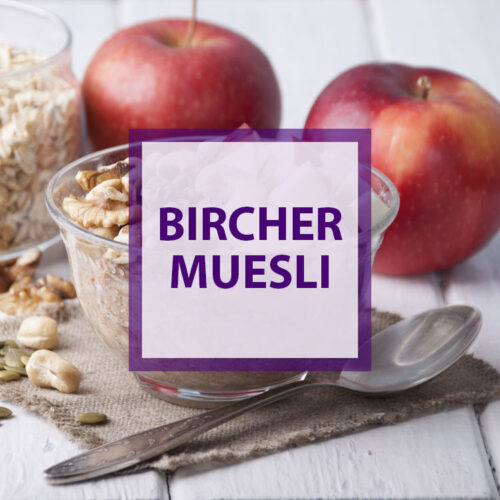 The forerunner to overnight oats, Bircher muesli is a healthy breakfast favourite.
The soaked oats take on a softly different texture to porridge, in a dish that is easy to eat and easy to digest. Which is ideal for the first meal of the day.
Closely related to both muesli and granola, it can be oddly decadent in spite of its wholesome credentials.
What is Bircher muesli?
Bircher muesli was created in the early 1900s by Maximilian Bircher-Brenner. A Swiss doctor, he created the recipe as a way of getting more fruit into his patients. More specifically, apples, which he considered particularly nutritious. A simple recipe of oats, milk, nuts and apples soaked together overnight, it was a soft and easily digestible breakfast for his sanitorium patients.
Is Bircher muesli healthy?
Like most foods, it can only be as healthy as the ingredients that you make it with. Made with cream and lots of nuts it will be more heavy on calories than if you soak it in water. Made with the four basic ingredients, this healthy breakfast comes with a range of benefits.
Oats are full of fibre, some of which is soluble, that gives an extended feeling of fullness and prevents blood sugar spikes. Magnesium present in oats helps to regulate insulin secretion and they also contain a natural sedative. With plenty of vitamins and minerals, oats are a great source of all round goodness.
Maximilian was right about apples; an often overlooked fruit. They also help to regulate blood sugar levels and are a source of soluble fibre. Many of the compounds found in apples improve metabolic balance. Always eat the skin as it contains fibre and may help prevent osteoporosis. Apples are waxed for shelf life, so wash them thoroughly in warm soapy water and rinse well before eating. Allowing the apple to brown a little after grated can help it become more easily digestible. Apples are also a source of vitamin C and iron.
Adding nuts increases the protein content as well as the fibre. Always eat nuts with the skin on to keep the nutrient profile intact. Nuts also provide many essential fatty acids. Almonds are rich in zinc, magnesium, and potassium as well as antioxidant vitamin E. Hazelnuts are rich in antioxidants and contain biotin, a substance that is really good for strong healthy skin and hair.
Using dairy milk, from cows, sheep, or goats, adds the benefit of calcium and vitamin D. Dairy foods also provide vitamin B12 which is essential for a healthy brain and nervous system. Vitamin B3 in dairy milk can also help to burn more calories. Choose full fat milk as it retains the fat soluble vitamins A, D, E and K.
Can you eat Bircher muesli without soaking?
Bircher muesli by default is soaked. Not soaked, it becomes, well, muesli. The soaking process not only makes the oats more digestible by softening them, but helps to break down a substance called phytic acid. Present in all grains (which is why grains are not part of a Paleo diet), phytic acid binds to certain minerals and reduces the uptake of minerals present in the food. You can also include the nuts in the soaking process for the same reason, but they do take on a softer less crunchy texture.
Is Bircher muesli gluten free?
Oats themselves are not gluten free yet low in Gluten and are often processed alongside wheat and other cereals so tend to be avoided by those with serious issues around gluten, such as coeliacs. Oats that are not 100% gluten free although some are  labelled as such, and some commercial muesli blends will contain other gluten-containing cereals.
How to make Bircher muesli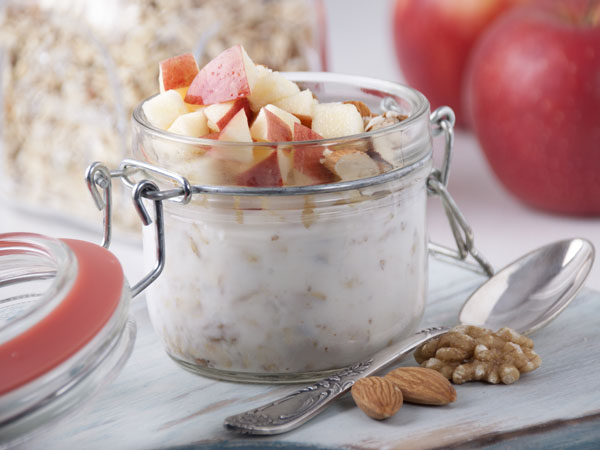 Bircher muesli is made by soaking oats in a liquid overnight, and then adding grated apple and nuts. It will keep in the fridge for about 3 days and can be frozen if required.
Vegan Bircher muesli
Making this soft creamy breakfast vegan is easy. Simply use juice, water or non-dairy milk. Nutty almond milk works particularly well, as does creamy oat milk.
Paleo Bircher muesli
Strictly speaking, the Paleo diet is open to personal interpretation depending on the foods you feel your body can tolerate. But in general, whether they contain gluten or not, grains are eliminated from the Paleo diet. You could experiment with some combination of coconut flakes, almond meal, and chia seeds but the results will be a vague approximation rather than a substitute. We think you are far better off with Paleo muesli or granola of nuts, seeds and fruits instead.
Basic Bircher muesli recipe
Soaked overnight, it becomes a soft and simple moreish thing. For the liquid you could use water, apple juice, milk, or for a touch of luxury, mix of half milk/half cream. The classic nuts would be hazelnuts, but you could use almonds, pecans, or walnuts.
You could opt for a 5 grain porridge blend, or a bircher muesli base instead of just oats.
Serves 1
25g oats
90ml liquid
1 apple, coarsely grated
1/4 cup nuts, chopped
Mix the liquid with the oats and soak in the fridge overnight.
Stir in the grated apple.
Top with the nuts and enjoy.
We hope you have been inspired to switch things up with a muesli breakfast. Head over to our online gourmet grocery stores for a full range of award-winning organic cereals.
Apple Supreme Paleo by Plum Foods is delicious and tasty paleo muesli that includes a mix of real fruit pieces. Plum Foods produce healthy cereals. Apple supreme paleo is gluten-free and organic and contains no cereal grains. The Apple Supreme Paleo is perfect for healthy breakfasts. It is often treated as a good snack food.
You can have the Apple Supreme Paleo with milk, almond milk, fresh fruits or yoghurt. This unique Gluten Free breakfast cereal suits the paleo diet and contains no sugar and other artificial preservatives. Its fruit aroma will melt your heart. Apple supreme paleo comes in a foil lined pack with zip re-seal in order to keep hold of its freshness.
Apple supreme paleo 500g is quite popular among healthy cereals in Australia.
For more information, visit our site. Buy apple supreme paleo now and get online discounts on this product.
Plum Foods manufacture healthy breakfast cereals including muesli, rolled oats, and granola that helps to sustain energy and resist against illness. The brand of Plum foods delivers award-winning superior quality breakfast cereals. Plum Foods have won gold medals at an international Great Taste Awards.
They supply majority organic and pesticide free ingredient products at an affordable price. Although we do not pay for certification of our products Plum utilizes only certified organic oats as well as insecticides free Australian almonds and other organic produce for the bulk of the ingredients by volume.
Wholesale Granola is regarded as a superior source of protein and healthy fats that are made from seeds, oils, and nuts. It is also regarded as a healthy breakfast cereal. Granola can be of different flavors such as Maple Nut Crunch, Apple Supreme Paleo gluten-free, Cranberry Crunch, Spelt and Agave Nut Crunch and more.
Granola can be served with almond milk, milk, fresh fruit, yogurt and more toppings sold under our sister brand Boost Nutrients. Granola helps to lower blood sugar and cholesterol level as it is rich in the right fats. It will also help to decrease heart diseases, as well as other inflammatory conditions. Granola is rich in most minerals that may help to produce connective tissues, red blood cells and more.
Buy it online at parent company store Opera Foods.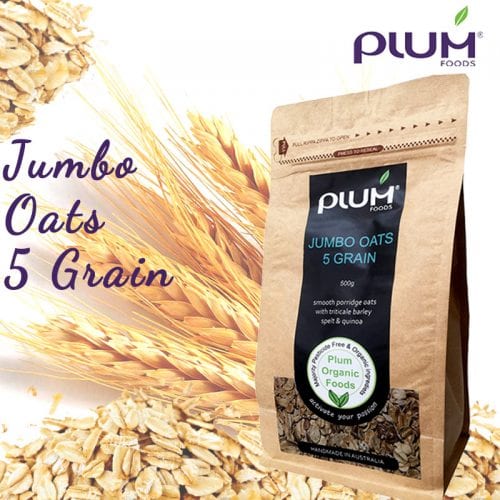 Jumbo Oats 5 Grain is a unique and delicious porridge breakfast cereal product from the Plum Foods brand. Plum Foods are the manufacturers and distributors as well as wholesale muesli suppliers to many Australian independent grocers and fresh retailers. Our distribution company Opera Foods is also part of this Australian family business.
Plum Foods consume natural wholefood elements for the production of nutritious cereals. Jumbo Oats 5 Grain is made up of different varieties of grain such as rolled barley, organic rolled oats, rolled spelled wheat, rolled quinoa as well as rolled triticale. It is rich in protein, fats, carbohydrates, sugars, sodium that helps to sustain your day.
It makes a beautiful nutritious porridge that  is considered as an ideal food for morning breakfast. Porridge is regarded as a classic nutritious cereal that strengthens the energy throughout the day. To make your porridge into a nutrition powerhouse you can add super-food ingredients from Opera Foods' Boost Nutrients brand
Plum Foods offer a large variety of diverse recipes for Granola and Muesli that are majority organic or pesticide free. We also have another specialist brand called Mulberry Tree which deals simply wholefood Muesli and Granola only.
To Order products, in bulk, you can visit our parent company Opera Foods and avail great discounts and offers.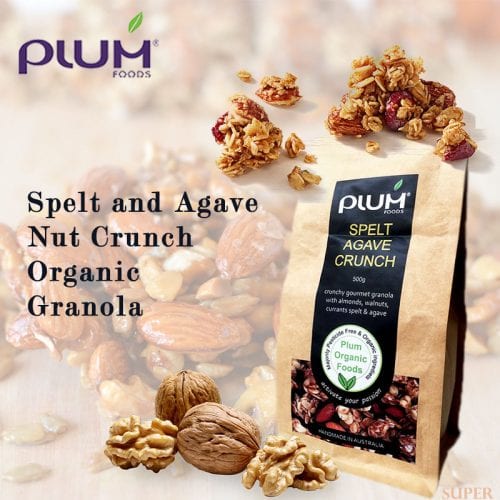 Spelt and Agave Nut Crunch organic granola is one of the crunchiest granola products out there. It is manufactured by Plum Foods Australia brand. Plum Foods are focused on being nutritious cereal producers as well as premium granola suppliers with majority organic ingredients. We deliver overnight to Melbourne, Brisbane, and Sydney. The Spelt Agave Nut Crunch granola is quick as well as an easy nutritious whole food breakfast.
Our Spelt and Agave Nut Crunch organic granola is regarded as a nutritious gourmet granola that is low in suger with no added sugar. It is comprised of wholemeal spelt flour, organically grown oats, oleic sunflower oil, agave syrup, sunflower seeds, maple syrup, pesticides free almonds, currants, walnuts, sea salt as well as vanilla spices. Organic granola contains vitamin E, protein, fiber and it provides certain health benefits. The health benefits of consuming low GI healthy and crunchy granola include low cholesterol levels, increases energy, resist anemia and many more.
But it online from parent company Opera Foods who also distribute our healthy cereals to independent grocers.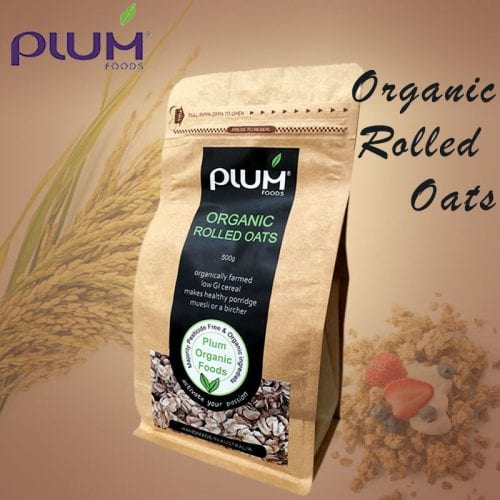 Organic rolled oats is a leading product of Australian cereal manufacturer Plum Foods  that is grown organically. Organic rolled oats are rich in fiber as well as antioxidants they are among the best organic cereals.
According to the researcher, oats are considered as the healthiest breakfast cereal in Australia and is very low in gluten. Whilst Organic oats are not totally gluten free, Oats is very low in gluten and even some coeliacs can tolerate it. The researchers have suggested that people should have oaten porridge at breakfast as it increases the stamina of an individual. Organic rolled oats can be grown in cool, respective moist climate and it is suitable to grow in any type of soils that contain alkaline between 5.5 as well as 7.0. Organic rolled oats are grown pesticides free and it does not contain any respective chemical residues. Organic rolled oats are rich in fiber; therefore, it helps to lower cholesterol levels of an individual.
Plum Foods are wholesale granola manufacturers who pack and produce their own products. All our products have majority organic and/or insecticide-free ingredients which will help you in maintaining your healthy breakfast cereal diet. Buy Plum Foods organic oats here.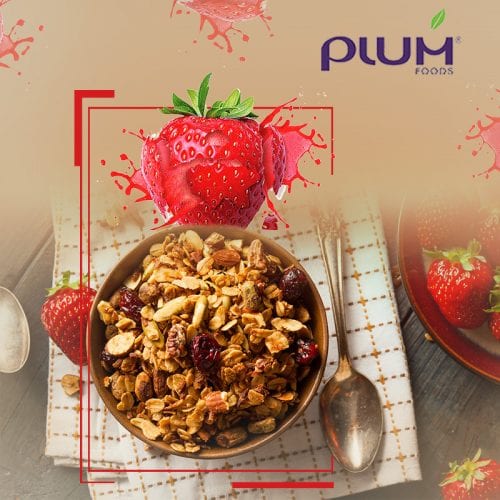 Granola is considered to be breakfast as well as a snack food that comprises of rolled oats, nuts, honey and some fruit for sweeteners but ours has no added sugar. During the period of making granola, several processes are followed for the production of organic wholesale granola. At the time of baking, respective mixtures are stirred well for the maintenance of respective cereal consistency in breakfast.
Sometimes dried fruits such as raisins, dates are added for making the texture good. People prefer to have granola with honey, yogurt, fresh fruits including strawberries, blueberries, bananas and it can be eaten with milk and several kinds of cereals. During the time of camping, hiking and backpacking, people carry granola as it is considered to be a nutritious, rich in calories, lightweight and it is also convenient to store during backpacking and hiking. The health benefits of granola include improvement of digestion, and blood sugar control from Low GI Ingredients.
Plum foods are a healthy breakfast cereal provider company. We have different varieties of Granola and Muesli products which are perfect for you to start your healthy breakfast diets including Gluten Free.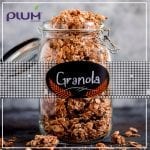 Granola is a healthy breakfast cereal which is similar to Muesli in texture and shape but is healthier and tastier when compared to the former. Granola bowl with yogurt is highly rated as a good energetic morning breakfast among health-conscious people. They are a great source of fiber, vitamins, proteins, and essential nutrients which are required by our body. Granola also serves as a quick and easy-go-to meal while adding other nutrients having a busy and a hectic day. All our granola products are wholefood ingredients with no added sugar-which makes us stand out from the rest.
Plum foods manufacture healthy breakfast cereals and different kinds of granola and muesli. We manufacture and deliver products overnight in Sydney, Melbourne & Brisbane and promptly to other regions. Our granola products like Cranberry Crunch Granola and Maple Nut Crunch Granola have also won a gold medal at the Great Taste Awards.
Plum Organic Foods Pty Ltd and Plum Foods Australia Pty Ltd are wholesale granola supplier subsidiaries of Australian wholesale food suppliers Opera Foods.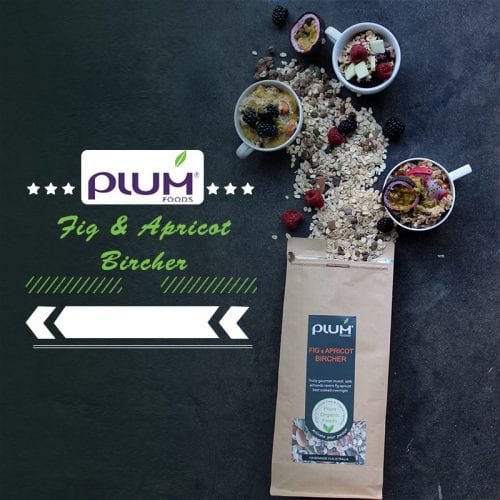 Plum Foods offers to satisfy crunchier breakfasts for discerning food lovers. Granolas are healthy, homemade, comforting and a delicious dish for working moms. They are super crunchy and gluten-free which makes them desirable among people of all ages.
Plum foods offer a great range of gourmet granola products such as Maple Nut Crunch Granola, Fig, and Apricot Bircher Muesli (pictured), Cranberry Crunch Granola and even paleo breakfast. Our product does not include artificial colors or hydrogenated oils but they are made up of majority organic ingredients great granolas and muesli of the best quality.
We are manufacturers and deliverers of healthy breakfast cereals such as wholesale Granolas & Muesli. We also have a long-established brand for Muesli products called the Mulberry Tree. Visit our online store or call us for wholesale delivery details.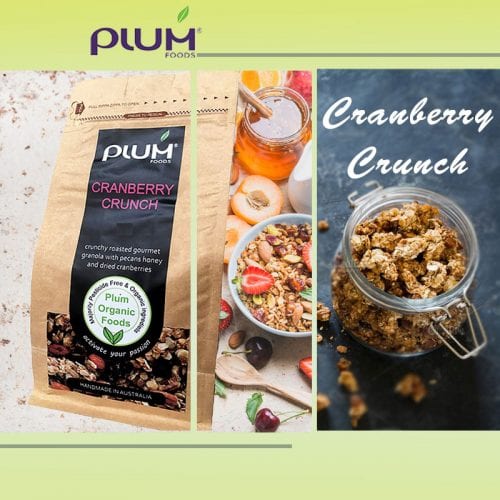 Granola has gained popularity over the last decade or so as one of the healthy breakfast cereals in Australia. But not all granola brands are healthy even though it might seem delicious to you. Hence you have to be very careful while choosing the recipe as well as the brand to include healthy granola in your breakfast diet. Granola is e a great source of whole grains, fiber, protein and vitamins.
All our products here at Plum Foods are a perfect mixture of organic oats, pesticide free almonds as well as other seeds and nuts and dried fruit with no added sugar. The uniqueness of our products has helped us to be recognized globally and have also been awarded gold medals at the Great Taste awards of UK.
The Cranberry crunch granola is a quick and easy breakfast meal which is low sugar. Cranberries are rich in phyto-nutrients like which are essential for the all round wellness of our body. Plum Foods offers 1kg Cranberry Crunch Granola which is perfect large families while the 500gm pack is ideal for most retail sales.
Plum Foods are healthy cereal suppliers of gourmet muesli, grocery retailers and wholesale granola breakfast cereals. Check our online store for more details.