wholesale food
now browsing by tag
Organic rolled oats are a great source of energy and a healthy breakfast cereal that is very high in antioxidants. The Organic Rolled Oats of Plum foods brand is natural organically grown oats . Our organic oats grown in the best growing conditions along with amazing climatic conditions. They are pesticide free and do not contain any chemicals as preservatives it is completely organic. Rolled oats are filled with fiber and hence keep the cholesterol levels in a check.
Organic Rolled Oats – Gluten Free?
Is oats gluten free?. NO it is not. Many retailers falsely claim this . It is very low in Gluten and some coeliacs can tolerate it. but oats is not entirely Gluten free.
Most health professionals recommend, including cereal grains as a part of our diet. Oats are one of the healthiest grains in the earth. Having oaten porridge on a daily basis also increases your stamina as it is a low GI food source. Its high fiber content can reduce constipation. Oats Porridge is a nutritious way to start your day it improves your metabolism and reduces the calorie intake.
Plum foods are healthy breakfast cereal producers in Australia. We specialize in gourmet granola and muesli products.
Buy Organic Rolled oats from our group online store. We are a label brand of Opera Foods, a wholesale food suppliers to  Sydney, Melbourne, and Brisbane.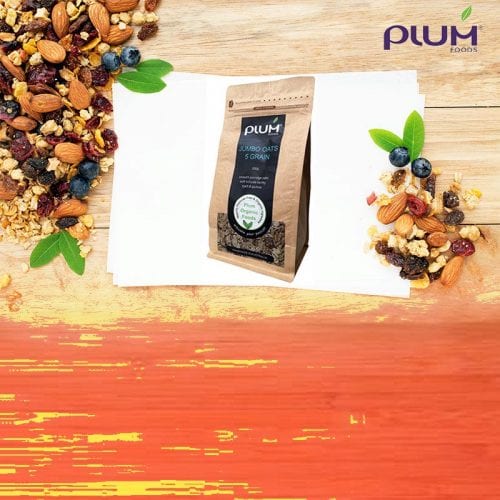 The Plum Foods brand Jumbo Oats is a healthy breakfast cereal  which is made with a combination of five grains for porridge lovers. They are a great source of energy and contain vitamins and antioxidants in high amount.
Jumbo Oats is handmade in Australia using completely natural grains which are majority organic and pesticide free. It is a gourmet mix of grains such as Rolled Oats, Rolled Barley, Rolled Spelt, Rolled triticale and Rolled Quinoa. Jumbo Oats is a classic healthy porridge which gives the body required energy to be active throughout the day. It is blended by Plum FRoods in such a way to give a satisfying taste along with the benefits.
Plum Foods supply Gourmet Muesli and Granola breakfast cereals to retailers in Australia. All our products are tightly packed in reusable foil line pack with a zip seal hence retaining the freshness of the product with no added preservatives.
Plum Foods are subsidiaries of Australian wholesale food suppliers Opera Foods.
The Fig Apricot Organic Bircher Muesli from the Plum foods is made up of high-quality ingredients. Plum foods use the best quality of natural and organic ingredients. They combine different type of dried fruit and nuts, tasty almonds, healthy cereal, and superb organic oats. It tastes best when soaked in almond milk but you can also try that with the normal milk. You can also have it by cooking it up and then add fresh yogurt or mix them with Acai berry power and add blueberries as toppings.
It is foil lined pack with zipped reseal bag, no artificial preservatives or sweeteners are added to retain its freshness.
Our Fig Apricot Organic Bircher Muesli 500gm is a favorite product among all the gourmet foods found in Plum foods.
If you want to place an order in bulk you can order from our wholesale food Suppliers Sydney, Opera Foods.