Gluten free
now browsing by tag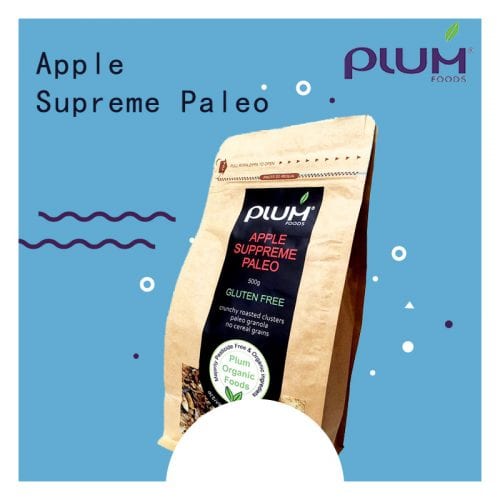 Apple Supreme Paleo by Plum Foods is gluten-free and organic. Plum Foods are the manufacturers of high nutrient wholesale granola. Cereal manufacturers Plum Foods also distribute nutritious breakfast cereals such as bircher muesli, granola, gluten-free, vegan as well as organic oats for making porridge. Apple supreme paleo contains no added sugar do it is a low sugar cereal and it has a fruity flavour which will revive you with a chewy fruity taste. Apple supreme paleo is ideal for healthy breakfasts. This delicious paleo muesli can be eaten with milk, almond milk, fresh fruits and yoghurt. Apple supreme paleo is a palatable paleo granola which contains no cereal grains and it is Gluten Free.
Apple supreme paleo are made with insecticide free almonds, organic shredded coconut, honey,  organic dried apple, organic virgin coconut oil, almond meal, organic sunflower seeds, raisins, organic pepitas, organic dried cranberries, organic linseed, organic cinnamon, baking powder and organic vanilla powder.
Visit our site to know more details about the product. Buy apple supreme paleo and avail online discounts now.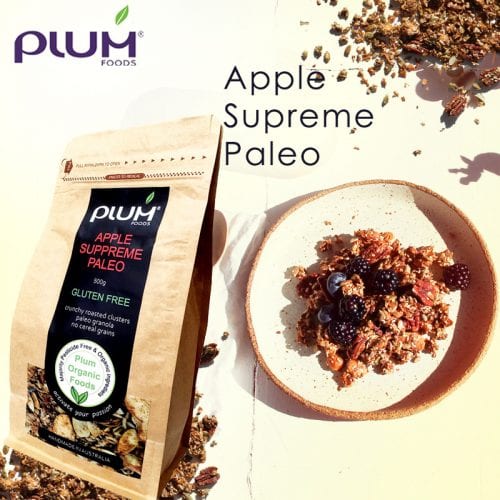 Plum Foods manufacture healthy cereals and their Apple Supreme Paleo is very popular among those that taste crisp and crunchy.  Apple Supreme Paleo is an ideal healthy breakfast which contains no cereal grains. It can be eaten with almond milk and milk.
The main ingredients of Apple Supreme Paleo are organic shredded coconut, raw honey, pesticides free almonds, organic dried apples, virgin coconut oil, almond meal, organic sunflower seeds, raisins, vegetable oil, organic pepitas, organic dried cranberries, organic linseed, organic cinnamon, baking powder, organic vanilla powder and more.
It is rich in protein, fiber, minerals, vitamin E and much more. It is gluten free and organic. It contains no added sugar and it has fruity aroma which will make the heart delight.
A true paleo meal that has no cereal grains so it gluten free.
Visit our online store to know further details about the product and book your favorite products now and get online discounts.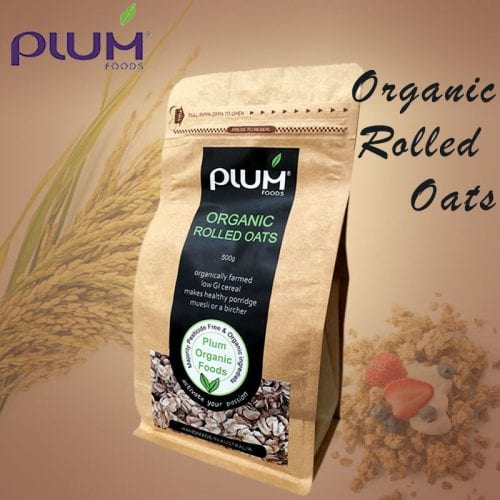 Organic rolled oats is a leading product of Australian cereal manufacturer Plum Foods  that is grown organically. Organic rolled oats are rich in fiber as well as antioxidants they are among the best organic cereals.
According to the researcher, oats are considered as the healthiest breakfast cereal in Australia and is very low in gluten. Whilst Organic oats are not totally gluten free, Oats is very low in gluten and even some coeliacs can tolerate it. The researchers have suggested that people should have oaten porridge at breakfast as it increases the stamina of an individual. Organic rolled oats can be grown in cool, respective moist climate and it is suitable to grow in any type of soils that contain alkaline between 5.5 as well as 7.0. Organic rolled oats are grown pesticides free and it does not contain any respective chemical residues. Organic rolled oats are rich in fiber; therefore, it helps to lower cholesterol levels of an individual.
Plum Foods are wholesale granola manufacturers who pack and produce their own products. All our products have majority organic and/or insecticide-free ingredients which will help you in maintaining your healthy breakfast cereal diet. Buy Plum Foods organic oats here.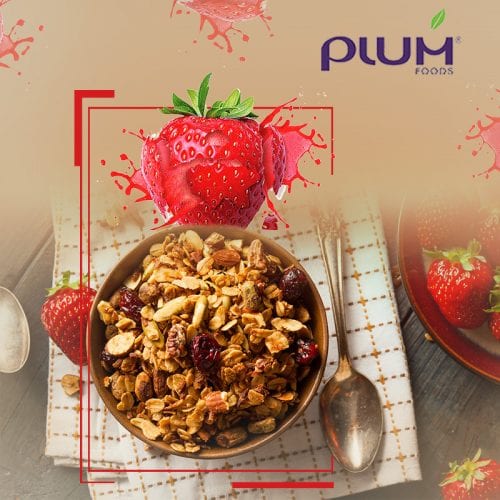 Granola is considered to be breakfast as well as a snack food that comprises of rolled oats, nuts, honey and some fruit for sweeteners but ours has no added sugar. During the period of making granola, several processes are followed for the production of organic wholesale granola. At the time of baking, respective mixtures are stirred well for the maintenance of respective cereal consistency in breakfast.
Sometimes dried fruits such as raisins, dates are added for making the texture good. People prefer to have granola with honey, yogurt, fresh fruits including strawberries, blueberries, bananas and it can be eaten with milk and several kinds of cereals. During the time of camping, hiking and backpacking, people carry granola as it is considered to be a nutritious, rich in calories, lightweight and it is also convenient to store during backpacking and hiking. The health benefits of granola include improvement of digestion, and blood sugar control from Low GI Ingredients.
Plum foods are a healthy breakfast cereal provider company. We have different varieties of Granola and Muesli products which are perfect for you to start your healthy breakfast diets including Gluten Free.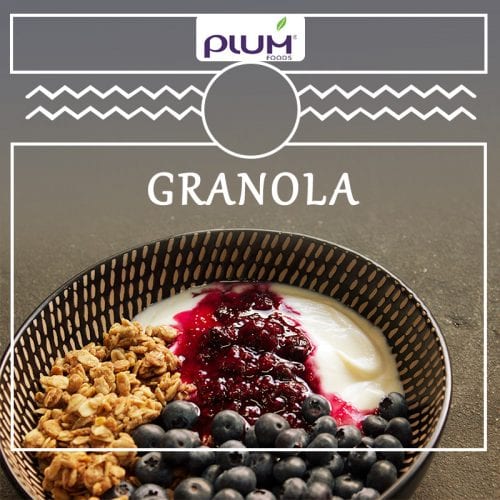 Granola and Muesli are healthy breakfast cereals which come under the category of "eat it like you would" because of the different possible ways and combinations you can have it. You can cook them and turn them into porridge, or soak them overnight and add sliced fresh fruits and dried fruits. Granola bowls and Smoothie bowls can be gluten-free when not made with rolled oats. We offer some Gluten free  products with natural Australian ingredients which are manufactured under HACCP certified conditions.
Plum Foods is a gourmet granola and muesli brand, where you can find different types of healthy breakfast cereals. You can visit our online gourmet grocery shop to find more. We also offer a different brand called Mulberry Tree to promote our Muesli products there. Opera Foods are the granola suppliers and parent company which deals in all types of gourmet products and mostly our own brands. For wholesale bulk delivery to retailers, we suggest you visit our wholesale granola hub at Opera Foods.
Organic rolled oats are a great source of energy and a healthy breakfast cereal that is very high in antioxidants. The Organic Rolled Oats of Plum foods brand is natural organically grown oats . Our organic oats grown in the best growing conditions along with amazing climatic conditions. They are pesticide free and do not contain any chemicals as preservatives it is completely organic. Rolled oats are filled with fiber and hence keep the cholesterol levels in a check.
Organic Rolled Oats – Gluten Free?
Is oats gluten free?. NO it is not. Many retailers falsely claim this . It is very low in Gluten and some coeliacs can tolerate it. but oats is not entirely Gluten free.
Most health professionals recommend, including cereal grains as a part of our diet. Oats are one of the healthiest grains in the earth. Having oaten porridge on a daily basis also increases your stamina as it is a low GI food source. Its high fiber content can reduce constipation. Oats Porridge is a nutritious way to start your day it improves your metabolism and reduces the calorie intake.
Plum foods are healthy breakfast cereal producers in Australia. We specialize in gourmet granola and muesli products.
Buy Organic Rolled oats from our group online store. We are a label brand of Opera Foods, a wholesale food suppliers to  Sydney, Melbourne, and Brisbane.
Apple Supreme Paleo is an organic healthy breakfast cereal by Plum Foods the Australian organic granola and muesli manufacturers of easy healthy breakfast cereals.
This is a Gluten Free organic Paleo granola. Top shelf and great easy healthy breakfast.
Buy it online from your organic cereal and Australian granola manufacturers at Plum Foods.
#paleo #glutenfree #applesupremepaleo #organic #healthybreakfastcereal #plumfoods #australianorganic #granola #organicgranola  #muesli #manufacturers #mueslimanufacturers #easyhealthybreakfast #breakfastcereals #paleogranola #glutenfreegranola #healthybreakfast
A report recently published in The Medical Journal Of Australia shows, that Victorian Environmental Health Officers found numerous fake claims during their last, surprise visits, survey of food outlets. They were checking food advertised as gluten-free.
Their analysis showed that 9% were not compliant with the Food Standards Australia New Zealand definition of gluten-free. Consumption of  gluten free food has become an unfortunate fad among many consumers, however it is the only treatment for those rare few with coeliac disease. An extended article on false gluten free claims  is published on Opera Foods gourmet food Store.
Gluten free foods need to be manufactured in separate contamination free premises.
#plumfoods #glutenfree #falseclaims
Many Australian Companies are falsely advertising Gluten Free Oats whereas in spite of it being low levels there is gluten in all oats varieties. Even small levels are bad for coeliac patients. See this article on Opera Foods for more details. https://www.operafoods.com.au/gluten-free-oats-dont-exist