Gourmet Muesli
now browsing by category
Find out about gourmet muesli for a nutritious and healthy breakfast or brunch. How about a smooth tasty Bircher muesli.
The Fig Apricot Organic Bircher Muesli from the Plum foods is made up of high-quality ingredients. Plum foods use the best quality of natural and organic ingredients. They combine different type of dried fruit and nuts, tasty almonds, healthy cereal, and superb organic oats. It tastes best when soaked in almond milk but you can also try that with the normal milk. You can also have it by cooking it up and then add fresh yogurt or mix them with Acai berry power and add blueberries as toppings.
It is foil lined pack with zipped reseal bag, no artificial preservatives or sweeteners are added to retain its freshness.
Our Fig Apricot Organic Bircher Muesli 500gm is a favorite product among all the gourmet foods found in Plum foods.
If you want to place an order in bulk you can order from our wholesale food Suppliers Sydney, Opera Foods.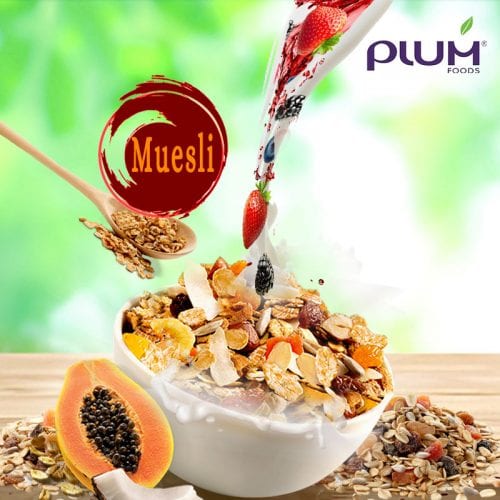 Plum Foods specializes in majority organic and/or insecticide-free cereals without compromising on the desired features of taste and ease-of-making. Thoughtfully, they is low on the GI (Glycemic Index).
You could add different fruit combinations to produce a wide range of tastes and nutritional content.
One such combination, the Fig and Apricot Bircher Mix are composed of organic oats, rice flakes, figs, pesticide-free almonds and gorgeous spices, sunflower kernels, sultanas, etc., to make the food temptingly tasty.
The energy will thus give will see you through an active and hectic day. It too has been very popular and in good demand for several decades and still going strong. Porridge oats are soaked in milk gets the texture and taste.
Gourmet grocers stock these ranges in a 500g pack and 1Kg packs are also available for large families and Cafes. Please visit Sydney Melbourne and Brisbane specialist wholesale suppliers Opera Foods for all your needs.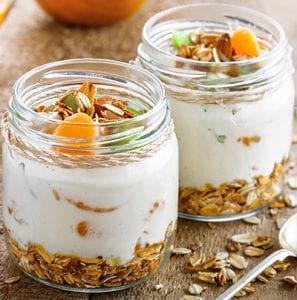 Plum Foods offers gourmet lunches, brunches or an easy healthy breakfast, from the finest Sydney restaurants and cafes.
You will love your lunch, brunch or breckie when its delicious, healthy, affordable and exciting!
Plum Foods' customers brings you gourmet lunches from Sydney's finest restaurants and cafes at great affordable prices.
A gourmet muesli or granola served well, is not just an easy and quick healthy lunch or brunch,  its also not expensive and is available from the quality Plum Foods products range in restaurants and cafes all over Sydney.  Let us help you find Sydney Lunches that beat the budget and look after your health with a sustained wholefoods meal.
If you would like to discover great Sydney lunch venues where you can enjoy a quick Plum Foods  healthy lunch or brunch or breaky see the list of stockists that are cafes in Sydney on our stockists directory on the Opera online gourmet Store.
Cafes and restaurants in Sydney, we deliver to your premises overnight. and invite you to stock Plum Foods gourmet breakfast, brunch or lunch meals that are nutritious, fast and affordable.