Opera Foods
now browsing by tag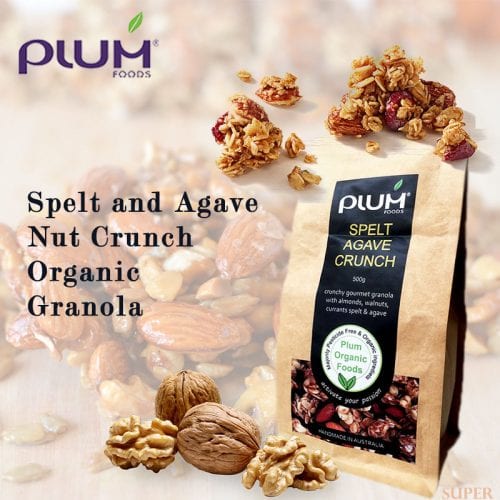 Spelt and Agave Nut Crunch organic granola is one of the crunchiest granola products out there. It is manufactured by Plum Foods Australia brand. Plum Foods are focused on being nutritious cereal producers as well as premium granola suppliers with majority organic ingredients. We deliver overnight to Melbourne, Brisbane, and Sydney. The Spelt Agave Nut Crunch granola is quick as well as an easy nutritious whole food breakfast.
Our Spelt and Agave Nut Crunch organic granola is regarded as a nutritious gourmet granola that is low in suger with no added sugar. It is comprised of wholemeal spelt flour, organically grown oats, oleic sunflower oil, agave syrup, sunflower seeds, maple syrup, pesticides free almonds, currants, walnuts, sea salt as well as vanilla spices. Organic granola contains vitamin E, protein, fiber and it provides certain health benefits. The health benefits of consuming low GI healthy and crunchy granola include low cholesterol levels, increases energy, resist anemia and many more.
But it online from parent company Opera Foods who also distribute our healthy cereals to independent grocers.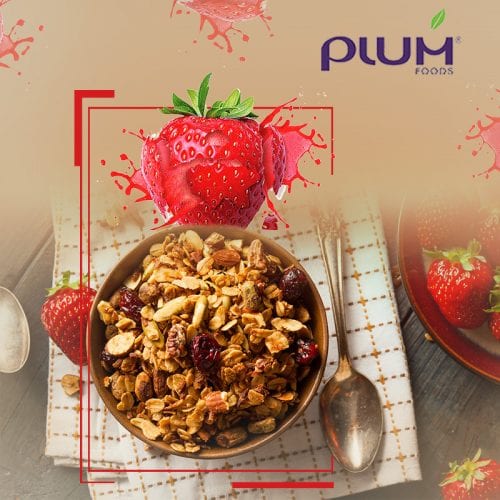 Granola is considered to be breakfast as well as a snack food that comprises of rolled oats, nuts, honey and some fruit for sweeteners but ours has no added sugar. During the period of making granola, several processes are followed for the production of organic wholesale granola. At the time of baking, respective mixtures are stirred well for the maintenance of respective cereal consistency in breakfast.
Sometimes dried fruits such as raisins, dates are added for making the texture good. People prefer to have granola with honey, yogurt, fresh fruits including strawberries, blueberries, bananas and it can be eaten with milk and several kinds of cereals. During the time of camping, hiking and backpacking, people carry granola as it is considered to be a nutritious, rich in calories, lightweight and it is also convenient to store during backpacking and hiking. The health benefits of granola include improvement of digestion, and blood sugar control from Low GI Ingredients.
Plum foods are a healthy breakfast cereal provider company. We have different varieties of Granola and Muesli products which are perfect for you to start your healthy breakfast diets including Gluten Free.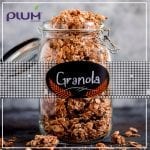 Granola is a healthy breakfast cereal which is similar to Muesli in texture and shape but is healthier and tastier when compared to the former. Granola bowl with yogurt is highly rated as a good energetic morning breakfast among health-conscious people. They are a great source of fiber, vitamins, proteins, and essential nutrients which are required by our body. Granola also serves as a quick and easy-go-to meal while adding other nutrients having a busy and a hectic day. All our granola products are wholefood ingredients with no added sugar-which makes us stand out from the rest.
Plum foods manufacture healthy breakfast cereals and different kinds of granola and muesli. We manufacture and deliver products overnight in Sydney, Melbourne & Brisbane and promptly to other regions. Our granola products like Cranberry Crunch Granola and Maple Nut Crunch Granola have also won a gold medal at the Great Taste Awards.
Plum Organic Foods Pty Ltd and Plum Foods Australia Pty Ltd are wholesale granola supplier subsidiaries of Australian wholesale food suppliers Opera Foods.
Cranberries are a perfect component for a healthy granola or muesli breakfast that is quick and easy. Cranberries are low in calories and high in vitamin C, vitamin A, and also vitamin K.
Easy Healthy Breakfast
Try Plum Foods's gorgeous ready to go Cranberry Crunch organic granola with almonds that is already loaded with dried cranberries. Add any fresh in-season berries like Blueberries or any other fresh fruit. Top it with some milk, almond milk and a big dollop of yogurt to add some protein for an easy healthy breakfast. Hard To beat for great nutritional value and sheer convenience.
Cranberry Nutritional Value
Cranberries contain proanthocyanidins an antioxidant that helps prevent a range of diseases. Cranberries improve digestion, help prevent urinary tract infections, help prevent gum disease, reduces bad cholesterol, and will boost your immune system.One of the natural super-foods.
Available in either 500g bag or family 1kg bulk pack. Buy Plum Food's Cranberry Crunch in bulk online direct from the granola manufacturer at Opera Foods website. (Plum Foods is a subsidiary of Opera Foods Pty Ltd)
#cranberrycrunch #plumfoods #operafoods #easyhealthybreakfast #granola #crunchygranola #cranberries #antioxidants #reducecholesterol  #cholesterol #urinarytractinfections #boostimmunesystem #immunesystem #bulkgranola #breakfast #yogurt #blueberries #gumdisease #freshfruit #almonds #almondmilk #milk #nutrition #proanthocyanidins
A new recipe article  has just been posted on the online gourmet store at Opera Foods for Crunchy Granola with Yoghurt Banana Blueberries Strawberries.
Ingredients:
200g Low Fat Yoghurt
100g Maple Nut Crunch roasted granola from Plum Foods
1 whole small Banana
3 large Strawberries
1 spoonfull of fresh Blueberries.See the full article along with other easy Healthy Breakfast recipes here :-
Opera Foods Easy Healthy Breakfast Recipes