great taste awards
now browsing by tag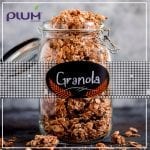 Granola is a healthy breakfast cereal which is similar to Muesli in texture and shape but is healthier and tastier when compared to the former. Granola bowl with yogurt is highly rated as a good energetic morning breakfast among health-conscious people. They are a great source of fiber, vitamins, proteins, and essential nutrients which are required by our body. Granola also serves as a quick and easy-go-to meal while adding other nutrients having a busy and a hectic day. All our granola products are wholefood ingredients with no added sugar-which makes us stand out from the rest.
Plum foods manufacture healthy breakfast cereals and different kinds of granola and muesli. We manufacture and deliver products overnight in Sydney, Melbourne & Brisbane and promptly to other regions. Our granola products like Cranberry Crunch Granola and Maple Nut Crunch Granola have also won a gold medal at the Great Taste Awards.
Plum Organic Foods Pty Ltd and Plum Foods Australia Pty Ltd are wholesale granola supplier subsidiaries of Australian wholesale food suppliers Opera Foods.
Plum Foods has two of its products that have been awarded the prestigious Great Taste Awards by by the Guild of Fine Food UK.
Plum Foods Maple Nut Crunch,
certified organic produce. Handmade in Australia. Double baked. (Oats, Whole Wheat Flour, Sunflower Seeds, Hi-Oleic Sunflower Oil, Almonds, Maple Syrup, Agave Syrup, Vanillas, Spices, Sea Salt). Calories
Plum Foods Gluten Free Maple Nut Crunch
A gluten Free, certified organic produce. Handmade in Australia. Double baked.
The Great Taste awards in the UK, is organised by the Guild of Fine Food, and is the acknowledged benchmark for specialty food and drink products. The Great Taste awards have been described as the 'Oscars' of the food world and the 'epicurean equivalent of the Booker prize'.
The Great Taste logo is a recognised accreditation that people trust globally when buying food products.
Judging of the Great Taste Awards
Over 400 experienced food judges, including 40 specially trained food writers inputting judges' comments, come together at 50 different judging days from 1st of April through to mid-July including a week in Belfast Ireland, at specialist test centers for tea, and for filter coffee and espresso, with the remainder of judging completed at Guild of Fine Food head office in Dorset UK.
These judges, are from all corners of the food world. They blind-taste in teams of 4 or 5 ensuring the Great Taste Awards get a fair balance of expertise, age and gender. Read more about the Great Taste Awards here.