Easy healthy breakfast
now browsing by tag
Are you a diehard devotee of granola or do you prefer your healthy breakfast with a little less crunch? Do you think muesli got a raw deal whilst granola evolved into muesli plus?
It's a cereal smackdown but who will win the battle of muesli vs granola?
The difference between granola and muesli
If you stood the main ingredients of muesli and granola side by side they would be fairly similar. A healthy breakfast of wholegrains, nuts, seeds, and dried fruit, the major difference between granola and muesli is that muesli is raw whilst granola is baked. To facilitate this baking, and turn raw wholesome muesli into crunchy granola, oil and sugar are added. But there is more to granola than just oil and sugar, and in fact it never evolved from muesli at all.
Which came first – muesli or granola?
Most of us are by now familiar with the story of Bircher muesli and how it came about. But did you know that Bircher muesli was actually the first muesli invented? Never intended as a breakfast food, Swiss muesli was the poster child of healthy living. Other parts of Europe soon caught on, enticed by the clean image of fresh mountain air and pastures green. By 1960, commercial muesli was widely available.
Granola began life in the United States yet it was not the lovechild of muesli and flapjack at all. Muesli and granola both came into being around the end of the nineteenth century but the original granola was made from wheat, not oats.  It was not until the 1960s that fruit and nuts were added by health conscious hippies, and commercial granola was not available until the 1970s. As it turns out, the two cereals may share many similarities but are in fact completely different things.
Muesli vs granola
So, other than grains, nuts, seeds and fruit, what's in the bag? Many commercial brands of muesli may have sugar and milk powder added. If your muesli makes the milk taste rich and sweet, chances are it has plenty of both. Gourmet muesli has far less, if any, of these additions. Granola will have some form of fat, and some form of sweetener, added. What these actually are will vary. Commercial varieties of granola are unlikely to be made with butter as it would turn rancid quickly, but they can contain high amounts of unhealthy hydrogenated or trans fats. Sugar content will vary from refined white sugars and corn syrup to the more acceptable face of honey or maple syrup. Even then, quantity counts.
Muesli is served cold, with milk or juice added. It can be soaked, as in Bircher muesli or overnight oats, or even cooked and served hot like porridge. Muesli is pretty versatile but you probably wouldn't want to snack on a dry handful straight from the box. Granola, on the other hand, was seemingly made for to be eaten naked and unadorned as a snack. Usually served cold, with or without milk, it is not unheard of to serve granola with hot milk. Granola is also an important feature of a granola bowl, smoothie bowl, or acai bowl.
Yet muesli got stuck with the health-food-as-penance reputation whilst granola got to be the good time girl. The acceptable face of oat eating. Both may have began life as health foods, but by the time the food industry got its wicked way neither muesli or granola could claim to be health foods.
Thankfully things have changed and most gourmet granola and muesli are full of the healthy grains, fruits, nuts and seeds that make cereal and milk the ideal healthy breakfast. But is muesli better than granola? Muesli may be less moreish, largely because it has no fat or sugar, but gourmet granola is not all about butter and syrup. Most of our healthy granola has no added sugar and is made with healthy fats.
Toasted muesli vs untoasted muesli
What even is toasted muesli? Is there a difference between granola and toasted muesli? Well, toasted muesli sits somewhere between granola and muesli. It can be made with no sugar or oil, but a little of each helps it along. Toasted muesli won't clump together into crunchy clusters like granola can, but the toasting adds an extra dimension of texture and flavour. Gourmet granola sometimes has more in common with toasted muesli than it does with granola. Which is no bad thing.
Can you make granola from muesli?
Well, yes you can. But why would you want to when there are so many delicious healthy alternatives available? Here's some of our favourite healthy granola, all baked by hand here in Australia.
Apple Supreme Paleo, gluten-free granola
This one is grain-free as well as gluten-free. A blend of fruit, nuts and seeds for the perfect Paleo granola.
A classic double baked muesli. Made with Australian pesticide-free almonds, cranberries, pecans and cinnamon alongside organic rolled oats.
Maple Nut Crunch, gluten-free vegan granola
The gluten-free version of our award winning granola. A gourmet granola with quinoa and puffed buckwheat instead of oats. Because contrary to popular belief, oats are not gluten-free.
An award winning granola made with agave and maple syrup.
Spelt and Agave Nut Crunch Granola
A healthy breakfast idea made with ancient grain spelt as well as organic rolled oats. Uniquely favoured with cinnamon and a touch of cardamom.
Here is a great Bircher Muesli: Fig & Apricot Bircher.
Explore our range of healthy cereals here, or head over to our online store where our healthy breakfast cereals are available to buy in bulk.
So who wins the cereal smackdown? We think both muesli and granola are absolute winners. Aaah.
---
This article was reproduced on this site only with permission from our parent company operafoods.com.au the "Gourmet Online Wholesale Grocer". See the original article here:- Cereal Smackdown – Muesli vs Granola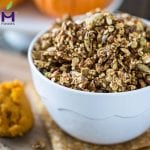 Granola is an extremely popular breakfast food which is loved by many health-conscious people all over the world. It is made up of rolled oats which have been pressed flat and lightly steamed, a bit of honey, nuts and puffed rice is added. Granola is a breakfast which is regularly used by people who travel a lot as it is very easy to carry them in their backpacks.
There are many amazing health benefits of Granola because it includes fiber, nutrients and many valuable minerals. As it contains dietary fibers, it improves the digestive system of our body.
According to researchers breakfast is the most important meal of our entire day because it keeps our brain active and working throughout the day, and hence if you have our organic granola as breakfast it not only reduces the blood pressure of the body but also boosts the speed of nervous response. If you have redness in your skin and associated pain because of sun burn then granola is a great choice of breakfast for you as it contains Vitamin E which protects the skin from premature ageing, sunburn, and wrinkles.
Granola is also one of the best sources of carbohydrates, which provides our muscle with the necessary energy for a busy day. The advantage of having granola is that you can have it in many ways as your breakfast. You can add dried fruits such as dates, apricots and have it as a snack. You can also take a spoonful of granola and a spoonful of yogurt and add sliced peaches, strawberries and raspberries and have it as a dessert.
Apple Supreme Paleo is an organic healthy breakfast cereal by Plum Foods the Australian organic granola and muesli manufacturers of easy healthy breakfast cereals.
This is a Gluten Free organic Paleo granola. Top shelf and great easy healthy breakfast.
Buy it online from your organic cereal and Australian granola manufacturers at Plum Foods.
#paleo #glutenfree #applesupremepaleo #organic #healthybreakfastcereal #plumfoods #australianorganic #granola #organicgranola  #muesli #manufacturers #mueslimanufacturers #easyhealthybreakfast #breakfastcereals #paleogranola #glutenfreegranola #healthybreakfast
Cranberries are a perfect component for a healthy granola or muesli breakfast that is quick and easy. Cranberries are low in calories and high in vitamin C, vitamin A, and also vitamin K.
Easy Healthy Breakfast
Try Plum Foods's gorgeous ready to go Cranberry Crunch organic granola with almonds that is already loaded with dried cranberries. Add any fresh in-season berries like Blueberries or any other fresh fruit. Top it with some milk, almond milk and a big dollop of yogurt to add some protein for an easy healthy breakfast. Hard To beat for great nutritional value and sheer convenience.
Cranberry Nutritional Value
Cranberries contain proanthocyanidins an antioxidant that helps prevent a range of diseases. Cranberries improve digestion, help prevent urinary tract infections, help prevent gum disease, reduces bad cholesterol, and will boost your immune system.One of the natural super-foods.
Available in either 500g bag or family 1kg bulk pack. Buy Plum Food's Cranberry Crunch in bulk online direct from the granola manufacturer at Opera Foods website. (Plum Foods is a subsidiary of Opera Foods Pty Ltd)
#cranberrycrunch #plumfoods #operafoods #easyhealthybreakfast #granola #crunchygranola #cranberries #antioxidants #reducecholesterol  #cholesterol #urinarytractinfections #boostimmunesystem #immunesystem #bulkgranola #breakfast #yogurt #blueberries #gumdisease #freshfruit #almonds #almondmilk #milk #nutrition #proanthocyanidins
Spelt Agave Crunch is a wonderful, low sugar yet tasty to eat and healthy, organic toasted granola from Plum Foods that is made with really crunchy clusters.
Pictured is an example of an easy healthy breakfast. We use a combination of 3 fresh berries, blueberries, blackberries and raspberries to make a quick berry coulis. Then top your Spelt Agave crunchy granola and yogurt with the berry coulis and add any leftover fresh berries.
This breakfast is loaded with protein from the almond based Spelt & Agave granola and the yogurt and with healthy nutrients from the berries with no added sugar.
Spelt is special healthy ancient wheat variety that helps in improving the digestive health, lowers the level of cholesterol, improves blood circulation, helps in hormonal regulation and creation, as well as maintaining  bone health.
It's an easy healthy breakfast that is nutritious and tasty.
Buy Spelt Agave Crunch granola online from Wholesaler and manufacturer Opera Foods.
#almonds #highprotein #highproteinbreakfast
#plumfoods #speltagavecrunch #crunchygranola #crunchymuesli #organicgranola #easyhealthybreakfast #spelt #agave #granola #lowsugar #noaddedsugar
Recipe for Maple Nut Crunch served as an easy healthy breakfast with yogurt and blackberries.
Ingredients:-
90g Maple Nut Crunch toasted granola.
110g low fat yogurt
7 Large plump fresh Blackberries.

See the full articla and order Maple Nut Crunch at the Opera Foods gourmet store.
A new recipe article  has just been posted on the online gourmet store at Opera Foods for Crunchy Granola with Yoghurt Banana Blueberries Strawberries.
Ingredients:
200g Low Fat Yoghurt
100g Maple Nut Crunch roasted granola from Plum Foods
1 whole small Banana
3 large Strawberries
1 spoonfull of fresh Blueberries.See the full article along with other easy Healthy Breakfast recipes here :-
Opera Foods Easy Healthy Breakfast Recipes
A recent article on Opera Foods blog  explains in detail why porridge is an easy healthy breakfast. The explanation of different types of rolled oats, the nutritional value of oats and different recipes to prepare porridge for different dietary needs. Porridge can be a high energy diet or a high protein diet. Read here, why porridge is an easy healthy .
#easyhealthybreakfast #porridge #rolledoats #operafoods #highenergy #highprotein
The Gourmet Muesli Diet.
If you are getting on a bit, and overweight, it might be time to have a good hard look at yourself ? The only way to really get healthy is to eat and exercise right and get yourself to a healthy weight that is not straining your organs.
 You don't have to do anything extreme to achieve a healthy body. You dont need a diet or an exercise regime that stresses you. You just need a healthy attitude and a moderate eating and exercise mindset to gradually pull your body back to a healthy level and ensure you can enjoy life a lot longer.
One of the main ways to do that is with convenient foods that are natural wholefoods and one of the most convenient meals you can make is a granola or muesli bowl topped with fresh fruit & yoghurt. Unless your eating one of those sugar loaded commercial brands from the supermarket, its an easy healthy breakfast.
What Should I weigh?
A standard BMI index test uses your height and frame structure to indicate what the ideal weight for your particular body is. Its not an exacting science but can be quite revealing to those who have let the kilos accumulate as they age.
According to the BMI index, for my height and age and frame structure for example , I should be about 88kg. When I was 21 years of age however , I was a skinny thing about 80 kgs, so I figure that I could now be 80-90kg and still reasonable.  When you work out your BMI index you will have a pretty good idea of what you should weigh. You can google a BMI index calculator easily. So if you have a long way to go to get to a healthy weight, then you need a serious plan.
What is the Plan.
Many people have had many failed diets over the years and its not until you decide that you need a lifestyle change and an eating style change that you will get steady weight reductions rather than a yo yo diet that really will stress your critical organs.
Go for a middle of the road eating plan that's more of a lifestyle change and not hard to manage, but  write it down and track it and talk to yourself about it regularly to ensure you stick to it.
Plum Foods sells a range of gourmet muesli and gourmet granola which are perfect dietary base foods and its a solid start to base a dietary lifestyle change on a gourmet muesli/granola breakfast to start each day with an energy packed breakfast that will give you longer endurance throughout  the day with low GI ingredients.
Most importantly you should publicly declare your lifestyle diet, so that your friends and family and maybe even fellow staff and customers,  who feel the need, can encourage you, or berate you. So tell them  "whenever you see me, please demand to know if I have lost weight this week".
Here is our simple weight loss lifestyle plan
MONTH ONE PLAN – NO SNACK FOODS – N0 DESERTS – NO COOKIES
Breakfast: Plum Foods Gourmet granola – Maple Nut Crunch, 100g with A2 milk or yoghurt & Coffee
Mid morning : Coffee or tea (perhaps a good Matcha Tea) , plus 1 small piece of fruit if you had no fresh fruit on the granola.
Lunch: Cold Chicken salad. (one piece of chicken, cheese, lettuce, olives, cucumber, tomato, onion)
Mid afternoon: Tea. 2nd small piece fruit
Dinner (by 6:30pm): 1 Big Soup, No Main. (2nd small piece of fruit can follow if not taken in afternoon)
Morning Exercise: Exercise bike or treadmill 15 minutes, increasing each week by a minute until you are doing 30 minutes daily. Or at least 5 days per week. (People might say get outside and walk in the fresh air, but with a big TV in front of your treadmill you might find that its less of a chore and you will have done 15 minutes before you know it, if your entertained.).
MONTH TWO ETC
Repeat. Change up the light lunch and get variety in your evening soups. Try a different Plum Foods granola or muesli. (their all low sugar, wholefoods that are blended to give you a healthy nutritious meal). This is your eating lifestyle now.
Why not order a carton of muesli, granola or porridge oats from Plum Foods and be prepared for Easy healthy breakfasts for a month or two.