organic granola
now browsing by tag
Apple Supreme Paleo by Plum Foods is delicious and tasty paleo muesli that includes a mix of real fruit pieces. Plum Foods produce healthy cereals. Apple supreme paleo is gluten-free and organic and contains no cereal grains. The Apple Supreme Paleo is perfect for healthy breakfasts. It is often treated as a good snack food.
You can have the Apple Supreme Paleo with milk, almond milk, fresh fruits or yoghurt. This unique Gluten Free breakfast cereal suits the paleo diet and is a low sugar cereal as it contains no added sugar and other artificial preservatives. Its fruit aroma will melt your heart. Apple supreme paleo comes in a foil lined pack with zip re-seal in order to keep hold of its freshness.
Apple supreme paleo 500g is quite popular among healthy cereals in Australia.
For more information, visit our site. Buy apple supreme paleo now and get online discounts on this product.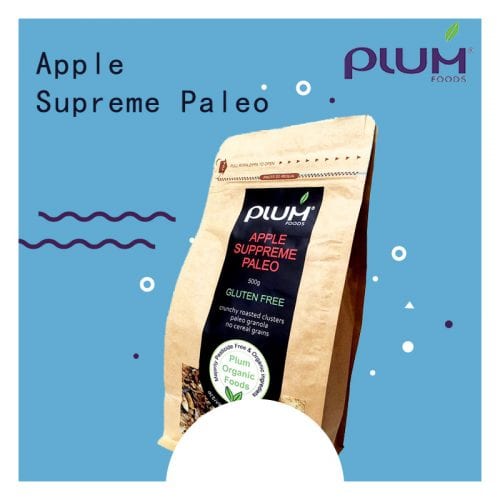 Apple Supreme Paleo by Plum Foods is gluten-free and organic. Plum Foods are the manufacturers of high nutrient wholesale granola. Cereal manufacturers Plum Foods also distribute nutritious breakfast cereals such as bircher muesli, granola, gluten-free, vegan as well as organic oats for making porridge. Apple supreme paleo contains no added sugar do it is a low sugar cereal and it has a fruity flavour which will revive you with a chewy fruity taste. Apple supreme paleo is ideal for healthy breakfasts. This delicious paleo muesli can be eaten with milk, almond milk, fresh fruits and yoghurt. Apple supreme paleo is a palatable paleo granola which contains no cereal grains and it is Gluten Free.
Apple supreme paleo are made with insecticide free almonds, organic shredded coconut, honey,  organic dried apple, organic virgin coconut oil, almond meal, organic sunflower seeds, raisins, organic pepitas, organic dried cranberries, organic linseed, organic cinnamon, baking powder and organic vanilla powder.
Visit our site to know more details about the product. Buy apple supreme paleo and avail online discounts now.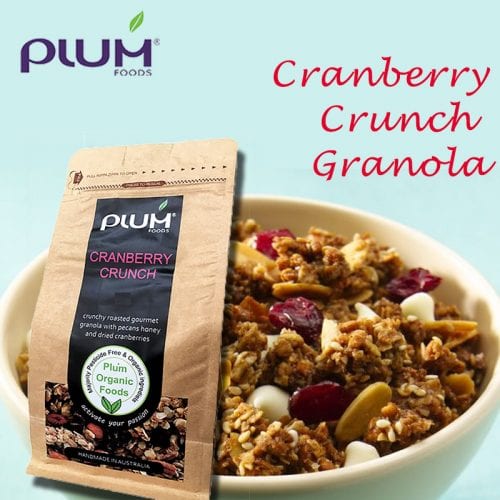 Cranberry Crunch Organic Granola, a healthy breakfast cereal by Plum Foods, is On Sale as a monthly Special right now at $8 per large 1kg pack at operafoods.com.au
Our Cranberry Crunch is a majority organic ingredient granola. Manufactured in Sydney by Plum Foods, this is a really crunchy and crispy granola. Plum Foods want consumers to get to know some of their other granola products (we  are famous for Maple Nut Crunch), so they are offering an introductory deal to see if you like this variety.
You can make an easy breakfast with Cranberry Crunch granola. Cranberry Crunch granola contains no sugar or artificial preservatives.  Cranberries contain phytonutrients particularly proanthocyanidin antioxidants that are important for all-round wellness. Berries provide several health benefits including protection from urinary tract infection, tooth cavities and inflammatory diseases. Our whole food natural ingredients are majority either organic or pesticides free. Cranberry crunch granola is a stable mate to one of the best selling breakfast cereals in Australia.
Cranberry Crunch granola is foil lined pack with zip seal in order to keep freshness. Cranberry crunch granola 1kg is perfect for large families or cafes whereas cranberry crunch granola 500g is ideal for home use.
Visit Opera Foods online gourmet store to know more information about the granola products. Book your favorite product now and get online discounts on this product.
Plum Foods manufactures great healthy cereals and our Spelt and Agave Nut Crunch organic granola is very popular among those that taste crunchy and crisp. Spelt and Agave Nut Crunch organic granola is a healthy and nutritious breakfast cereal that is easy and quick to make. It is majority organic and contains no added sugar and artificial stuff in it. It could be simply served with milk, almond milk, fresh fruits and or yogurt.
Spelt and Agave Nut Crunch organic granola contains whole meal spelt flour, organic oats, high oleic sunflower oil, agave syrup, sunflower seeds, maple syrup, insecticide free almonds, cinnamon essence, cardamon, walnuts, currants, sea salt and vanilla spices. It is rich in protein, fiber, minerals, vitamin E that will help to prevent against illness.
Plum foods offers majority organic and Australian products which are produced and packed under the HACCP certified conditions. Order your favorite healthy breakfast cereal product direct from our Online Store and grab some great discounts.
Plum Foods manufacture healthy breakfast cereals including muesli, rolled oats, and granola that helps to sustain energy and resist against illness. The brand of Plum foods delivers award-winning superior quality breakfast cereals. Plum Foods have won gold medals at an international Great Taste Awards.
They supply majority organic and pesticide free ingredient products at an affordable price. Although we do not pay for certification of our products Plum utilizes only certified organic oats as well as insecticides free Australian almonds and other organic produce for the bulk of the ingredients by volume.
Wholesale Granola is regarded as a superior source of protein and healthy fats that are made from seeds, oils, and nuts. It is also regarded as a healthy breakfast cereal. Granola can be of different flavors such as Maple Nut Crunch, Apple Supreme Paleo gluten-free, Cranberry Crunch, Spelt and Agave Nut Crunch and more.
Granola can be served with almond milk, milk, fresh fruit, yogurt and more toppings sold under our sister brand Boost Nutrients. Granola helps to lower blood sugar and cholesterol level as it is rich in the right fats. It will also help to decrease heart diseases, as well as other inflammatory conditions. Granola is rich in most minerals that may help to produce connective tissues, red blood cells and more.
Buy it online at parent company store Opera Foods.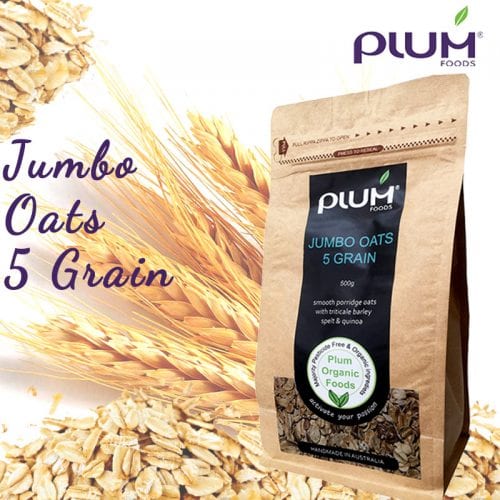 Jumbo Oats 5 Grain is a unique and delicious porridge breakfast cereal product from the Plum Foods brand. Plum Foods are the manufacturers and distributors as well as wholesale muesli suppliers to many Australian independent grocers and fresh retailers. Our distribution company Opera Foods is also part of this Australian family business.
Plum Foods consume natural wholefood elements for the production of nutritious cereals. Jumbo Oats 5 Grain is made up of different varieties of grain such as rolled barley, organic rolled oats, rolled spelled wheat, rolled quinoa as well as rolled triticale. It is rich in protein, fats, carbohydrates, sugars, sodium that helps to sustain your day.
It makes a beautiful nutritious porridge that  is considered as an ideal food for morning breakfast. Porridge is regarded as a classic nutritious cereal that strengthens the energy throughout the day. To make your porridge into a nutrition powerhouse you can add super-food ingredients from Opera Foods' Boost Nutrients brand
Plum Foods offer a large variety of diverse recipes for Granola and Muesli that are majority organic or pesticide free. We also have another specialist brand called Mulberry Tree which deals simply wholefood Muesli and Granola only.
To Order products, in bulk, you can visit our parent company Opera Foods and avail great discounts and offers.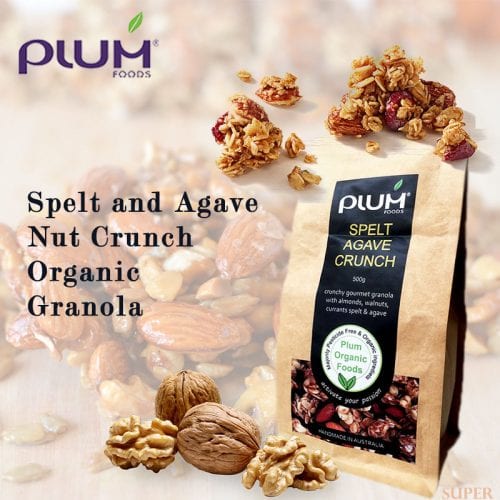 Spelt and Agave Nut Crunch organic granola is one of the crunchiest granola products out there. It is manufactured by Plum Foods Australia brand. Plum Foods are focused on being nutritious cereal producers as well as premium granola suppliers with majority organic ingredients. We deliver overnight to Melbourne, Brisbane, and Sydney. The Spelt Agave Nut Crunch granola is quick as well as an easy nutritious whole food breakfast.
Our Spelt and Agave Nut Crunch organic granola is regarded as a nutritious gourmet granola that is low in suger with no added sugar. It is comprised of wholemeal spelt flour, organically grown oats, oleic sunflower oil, agave syrup, sunflower seeds, maple syrup, pesticides free almonds, currants, walnuts, sea salt as well as vanilla spices. Organic granola contains vitamin E, protein, fiber and it provides certain health benefits. The health benefits of consuming low GI healthy and crunchy granola include low cholesterol levels, increases energy, resist anemia and many more.
But it online from parent company Opera Foods who also distribute our healthy cereals to independent grocers.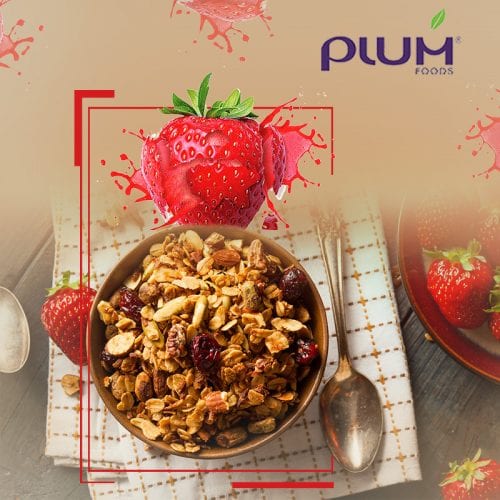 Granola is considered to be breakfast as well as a snack food that comprises of rolled oats, nuts, honey and some fruit for sweeteners but ours has no added sugar. During the period of making granola, several processes are followed for the production of organic wholesale granola. At the time of baking, respective mixtures are stirred well for the maintenance of respective cereal consistency in breakfast.
Sometimes dried fruits such as raisins, dates are added for making the texture good. People prefer to have granola with honey, yogurt, fresh fruits including strawberries, blueberries, bananas and it can be eaten with milk and several kinds of cereals. During the time of camping, hiking and backpacking, people carry granola as it is considered to be a nutritious, rich in calories, lightweight and it is also convenient to store during backpacking and hiking. The health benefits of granola include improvement of digestion, and blood sugar control from Low GI Ingredients.
Plum foods are a healthy breakfast cereal provider company. We have different varieties of Granola and Muesli products which are perfect for you to start your healthy breakfast diets including Gluten Free.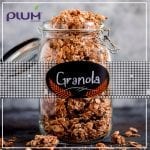 Granola is a healthy breakfast cereal which is similar to Muesli in texture and shape but is healthier and tastier when compared to the former. Granola bowl with yogurt is highly rated as a good energetic morning breakfast among health-conscious people. They are a great source of fiber, vitamins, proteins, and essential nutrients which are required by our body. Granola also serves as a quick and easy-go-to meal while adding other nutrients having a busy and a hectic day. All our granola products are wholefood ingredients with no added sugar-which makes us stand out from the rest.
Plum foods manufacture healthy breakfast cereals and different kinds of granola and muesli. We manufacture and deliver products overnight in Sydney, Melbourne & Brisbane and promptly to other regions. Our granola products like Cranberry Crunch Granola and Maple Nut Crunch Granola have also won a gold medal at the Great Taste Awards.
Plum Organic Foods Pty Ltd and Plum Foods Australia Pty Ltd are wholesale granola supplier subsidiaries of Australian wholesale food suppliers Opera Foods.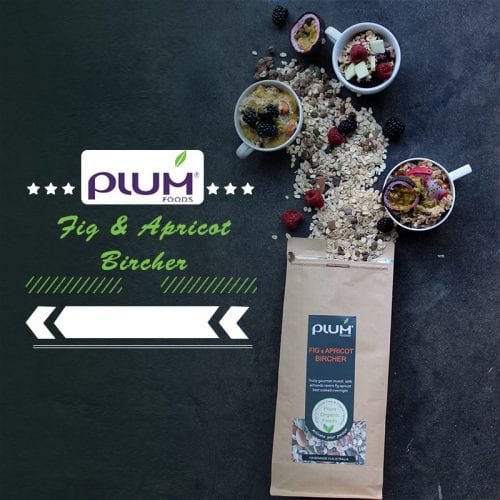 Plum Foods offers to satisfy crunchier breakfasts for discerning food lovers. Granolas are healthy, homemade, comforting and a delicious dish for working moms. They are super crunchy and gluten-free which makes them desirable among people of all ages.
Plum foods offer a great range of gourmet granola products such as Maple Nut Crunch Granola, Fig, and Apricot Bircher Muesli (pictured), Cranberry Crunch Granola and even paleo breakfast. Our product does not include artificial colors or hydrogenated oils but they are made up of majority organic ingredients great granolas and muesli of the best quality.
We are manufacturers and deliverers of healthy breakfast cereals such as wholesale Granolas & Muesli. We also have a long-established brand for Muesli products called the Mulberry Tree. Visit our online store or call us for wholesale delivery details.