organic muesli Australia
now browsing by tag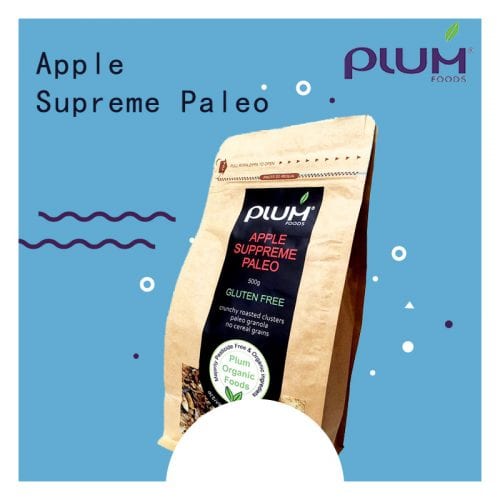 Apple Supreme Paleo by Plum Foods is gluten-free and organic. Plum Foods are the manufacturers of high nutrient wholesale granola. Cereal manufacturers Plum Foods also distribute nutritious breakfast cereals such as bircher muesli, granola, gluten-free, vegan as well as organic oats for making porridge. Apple supreme paleo contains no added sugar do it is a low sugar cereal and it has a fruity flavour which will revive you with a chewy fruity taste. Apple supreme paleo is ideal for healthy breakfasts. This delicious paleo muesli can be eaten with milk, almond milk, fresh fruits and yoghurt. Apple supreme paleo is a palatable paleo granola which contains no cereal grains and it is Gluten Free.
Apple supreme paleo are made with insecticide free almonds, organic shredded coconut, honey,  organic dried apple, organic virgin coconut oil, almond meal, organic sunflower seeds, raisins, organic pepitas, organic dried cranberries, organic linseed, organic cinnamon, baking powder and organic vanilla powder.
Visit our site to know more details about the product. Buy apple supreme paleo and avail online discounts now.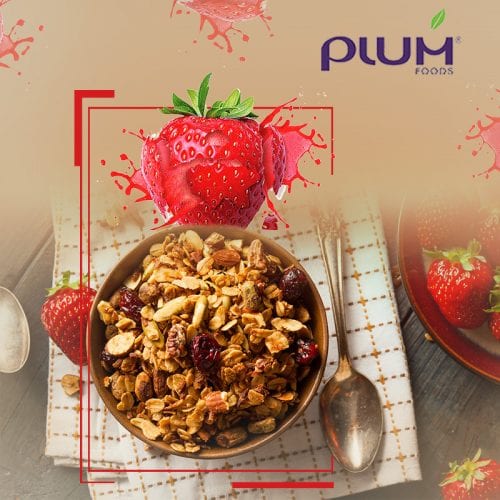 Granola is considered to be breakfast as well as a snack food that comprises of rolled oats, nuts, honey and some fruit for sweeteners but ours has no added sugar. During the period of making granola, several processes are followed for the production of organic wholesale granola. At the time of baking, respective mixtures are stirred well for the maintenance of respective cereal consistency in breakfast.
Sometimes dried fruits such as raisins, dates are added for making the texture good. People prefer to have granola with honey, yogurt, fresh fruits including strawberries, blueberries, bananas and it can be eaten with milk and several kinds of cereals. During the time of camping, hiking and backpacking, people carry granola as it is considered to be a nutritious, rich in calories, lightweight and it is also convenient to store during backpacking and hiking. The health benefits of granola include improvement of digestion, and blood sugar control from Low GI Ingredients.
Plum foods are a healthy breakfast cereal provider company. We have different varieties of Granola and Muesli products which are perfect for you to start your healthy breakfast diets including Gluten Free.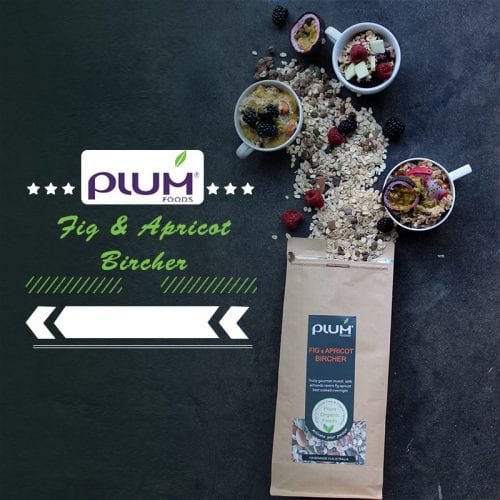 Plum Foods offers to satisfy crunchier breakfasts for discerning food lovers. Granolas are healthy, homemade, comforting and a delicious dish for working moms. They are super crunchy and gluten-free which makes them desirable among people of all ages.
Plum foods offer a great range of gourmet granola products such as Maple Nut Crunch Granola, Fig, and Apricot Bircher Muesli (pictured), Cranberry Crunch Granola and even paleo breakfast. Our product does not include artificial colors or hydrogenated oils but they are made up of majority organic ingredients great granolas and muesli of the best quality.
We are manufacturers and deliverers of healthy breakfast cereals such as wholesale Granolas & Muesli. We also have a long-established brand for Muesli products called the Mulberry Tree. Visit our online store or call us for wholesale delivery details.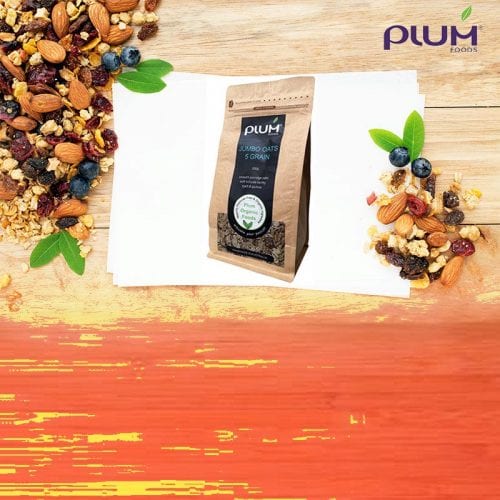 The Plum Foods brand Jumbo Oats is a healthy breakfast cereal  which is made with a combination of five grains for porridge lovers. They are a great source of energy and contain vitamins and antioxidants in high amount.
Jumbo Oats is handmade in Australia using completely natural grains which are majority organic and pesticide free. It is a gourmet mix of grains such as Rolled Oats, Rolled Barley, Rolled Spelt, Rolled triticale and Rolled Quinoa. Jumbo Oats is a classic healthy porridge which gives the body required energy to be active throughout the day. It is blended by Plum FRoods in such a way to give a satisfying taste along with the benefits.
Plum Foods supply Gourmet Muesli and Granola breakfast cereals to retailers in Australia. All our products are tightly packed in reusable foil line pack with a zip seal hence retaining the freshness of the product with no added preservatives.
Plum Foods are subsidiaries of Australian wholesale food suppliers Opera Foods.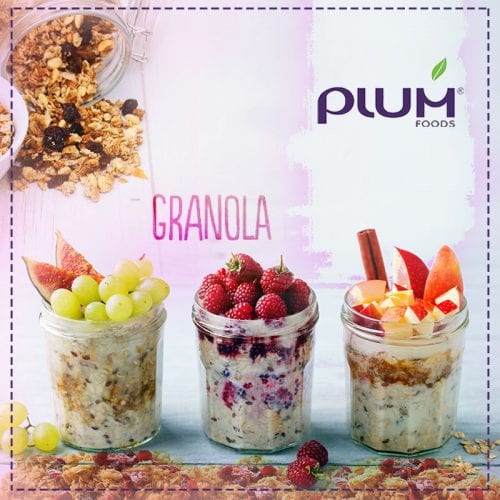 Plum Foods are wholesale granola suppliers. We manufacture Granola and Muesli in Sydney NSW and then distribute to all the suburbs of Sydney, Melbourne, and Brisbane overnight. We offer gourmet healthy breakfast cereals; all our gourmet granolas are majority organic.
Our Granola products have been refined over the years and adjusted to the taste of our consumers. Plum foods offer a special Granola for Paleo food eaters. Our Apple Supreme Paleo Granola is a must try and for those who want completely plant-based food, we have the Maple Nut Crunch Gluten Free Granola. A Vegan Granola which does not even contain honey or any dairy products.
One of our best healthy breakfast foods is the bircher style muesli Fig & Apricot, (serving pictured).
We also have the Cranberry Crunch Granola crunchy roasted gourmet granola with pecans honey and dried cranberries. It is one of our best selling breakfast cereals.
Plum foods are a wholly owned subsidiary of the Opera Foods Group.
The Fig Apricot Organic Bircher Muesli from the Plum foods is made up of high-quality ingredients. Plum foods use the best quality of natural and organic ingredients. They combine different type of dried fruit and nuts, tasty almonds, healthy cereal, and superb organic oats. It tastes best when soaked in almond milk but you can also try that with the normal milk. You can also have it by cooking it up and then add fresh yogurt or mix them with Acai berry power and add blueberries as toppings.
It is foil lined pack with zipped reseal bag, no artificial preservatives or sweeteners are added to retain its freshness.
Our Fig Apricot Organic Bircher Muesli 500gm is a favorite product among all the gourmet foods found in Plum foods.
If you want to place an order in bulk you can order from our wholesale food Suppliers Sydney, Opera Foods.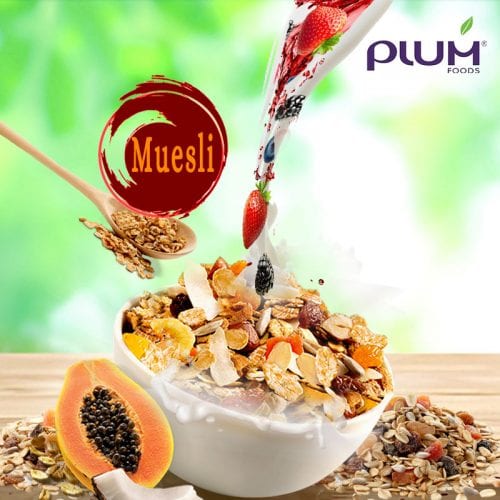 Plum Foods specializes in majority organic and/or insecticide-free cereals without compromising on the desired features of taste and ease-of-making. Thoughtfully, they is low on the GI (Glycemic Index).
You could add different fruit combinations to produce a wide range of tastes and nutritional content.
One such combination, the Fig and Apricot Bircher Mix are composed of organic oats, rice flakes, figs, pesticide-free almonds and gorgeous spices, sunflower kernels, sultanas, etc., to make the food temptingly tasty.
The energy will thus give will see you through an active and hectic day. It too has been very popular and in good demand for several decades and still going strong. Porridge oats are soaked in milk gets the texture and taste.
Gourmet grocers stock these ranges in a 500g pack and 1Kg packs are also available for large families and Cafes. Please visit Sydney Melbourne and Brisbane specialist wholesale suppliers Opera Foods for all your needs.