Maple Nut Crunch
now browsing by tag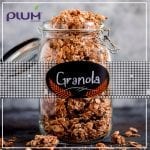 Granola is a healthy breakfast cereal which is similar to Muesli in texture and shape but is healthier and tastier when compared to the former. Granola bowl with yogurt is highly rated as a good energetic morning breakfast among health-conscious people. They are a great source of fiber, vitamins, proteins, and essential nutrients which are required by our body. Granola also serves as a quick and easy-go-to meal while adding other nutrients having a busy and a hectic day. All our granola products are wholefood ingredients with no added sugar-which makes us stand out from the rest.
Plum foods manufacture healthy breakfast cereals and different kinds of granola and muesli. We manufacture and deliver products overnight in Sydney, Melbourne & Brisbane and promptly to other regions. Our granola products like Cranberry Crunch Granola and Maple Nut Crunch Granola have also won a gold medal at the Great Taste Awards.
Plum Organic Foods Pty Ltd and Plum Foods Australia Pty Ltd are wholesale granola supplier subsidiaries of Australian wholesale food suppliers Opera Foods.
Raspberries and Yogurt on Granola – An Easy Healthy Breakfast
A high probiotic, high protein & nutrient rich recipe for serving granola with yogurt & fresh raspberries.
INGREDIENTS:-
100g Maple Nut Crunch organic granola from Plum Foods
120g Low Fat Yogurt
6 large fresh RaspberriesAdd the Granola and yogurt and top with the raspberries. Make sure you wash the fresh raspberries.

Read the details of this recipe and nutritional benefits for this easy healthy breakfast in full at the Opera Foods' food blog.
Recipe for Maple Nut Crunch served as an easy healthy breakfast with yogurt and blackberries.
Ingredients:-
90g Maple Nut Crunch toasted granola.
110g low fat yogurt
7 Large plump fresh Blackberries.

See the full articla and order Maple Nut Crunch at the Opera Foods gourmet store.
A new recipe article  has just been posted on the online gourmet store at Opera Foods for Crunchy Granola with Yoghurt Banana Blueberries Strawberries.
Ingredients:
200g Low Fat Yoghurt
100g Maple Nut Crunch roasted granola from Plum Foods
1 whole small Banana
3 large Strawberries
1 spoonfull of fresh Blueberries.See the full article along with other easy Healthy Breakfast recipes here :-
Opera Foods Easy Healthy Breakfast Recipes
#plumfoods shows that sugar content #sugarcontent, of some popular cereals and breakfast foods is quite alarming, as many have a lot of sugar added. Some that have dried fruit have naturally occuring sugars from the fruit, but that alone usually wont get you over 15% sugar content. Read the full article on Opera Foods lists and compares many of the popular Products (0ver 30% sugar) with gourmet brands Plum Foods #maplenutcrunch and Mulberry Tree, #mulberrytree (ranging from only 8.9% to 13.1%)