breakfast
now browsing by tag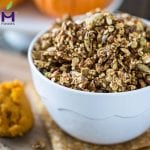 Granola is an extremely popular breakfast food which is loved by many health-conscious people all over the world. It is made up of rolled oats which have been pressed flat and lightly steamed, a bit of honey, nuts and puffed rice is added. Granola is a breakfast which is regularly used by people who travel a lot as it is very easy to carry them in their backpacks.
There are many amazing health benefits of Granola because it includes fiber, nutrients and many valuable minerals. As it contains dietary fibers, it improves the digestive system of our body.
According to researchers breakfast is the most important meal of our entire day because it keeps our brain active and working throughout the day, and hence if you have our organic granola as breakfast it not only reduces the blood pressure of the body but also boosts the speed of nervous response. If you have redness in your skin and associated pain because of sun burn then granola is a great choice of breakfast for you as it contains Vitamin E which protects the skin from premature ageing, sunburn, and wrinkles.
Granola is also one of the best sources of carbohydrates, which provides our muscle with the necessary energy for a busy day. The advantage of having granola is that you can have it in many ways as your breakfast. You can add dried fruits such as dates, apricots and have it as a snack. You can also take a spoonful of granola and a spoonful of yogurt and add sliced peaches, strawberries and raspberries and have it as a dessert.
Cranberries are a perfect component for a healthy granola or muesli breakfast that is quick and easy. Cranberries are low in calories and high in vitamin C, vitamin A, and also vitamin K.
Easy Healthy Breakfast
Try Plum Foods's gorgeous ready to go Cranberry Crunch organic granola with almonds that is already loaded with dried cranberries. Add any fresh in-season berries like Blueberries or any other fresh fruit. Top it with some milk, almond milk and a big dollop of yogurt to add some protein for an easy healthy breakfast. Hard To beat for great nutritional value and sheer convenience.
Cranberry Nutritional Value
Cranberries contain proanthocyanidins an antioxidant that helps prevent a range of diseases. Cranberries improve digestion, help prevent urinary tract infections, help prevent gum disease, reduces bad cholesterol, and will boost your immune system.One of the natural super-foods.
Available in either 500g bag or family 1kg bulk pack. Buy Plum Food's Cranberry Crunch in bulk online direct from the granola manufacturer at Opera Foods website. (Plum Foods is a subsidiary of Opera Foods Pty Ltd)
#cranberrycrunch #plumfoods #operafoods #easyhealthybreakfast #granola #crunchygranola #cranberries #antioxidants #reducecholesterol  #cholesterol #urinarytractinfections #boostimmunesystem #immunesystem #bulkgranola #breakfast #yogurt #blueberries #gumdisease #freshfruit #almonds #almondmilk #milk #nutrition #proanthocyanidins