Healthy Breakfast Bowl Recipes
now browsing by category
Easy healthy breakfast cereal recipes. Quantities, combinations, nutrition and toppings for an easy healthy breakfast bowl.
Plum Foods manufactures great healthy cereals and our Spelt and Agave Nut Crunch organic granola is very popular among those that taste crunchy and crisp. Spelt and Agave Nut Crunch organic granola is a healthy and nutritious breakfast cereal that is easy and quick to make. It is majority organic and contains no added sugar and artificial stuff in it. It could be simply served with milk, almond milk, fresh fruits and or yogurt.
Spelt and Agave Nut Crunch organic granola contains whole meal spelt flour, organic oats, high oleic sunflower oil, agave syrup, sunflower seeds, maple syrup, insecticide free almonds, cinnamon essence, cardamon, walnuts, currants, sea salt and vanilla spices. It is rich in protein, fiber, minerals, vitamin E that will help to prevent against illness.
Plum foods offers majority organic and Australian products which are produced and packed under the HACCP certified conditions. Order your favorite healthy breakfast cereal product direct from our Online Store and grab some great discounts.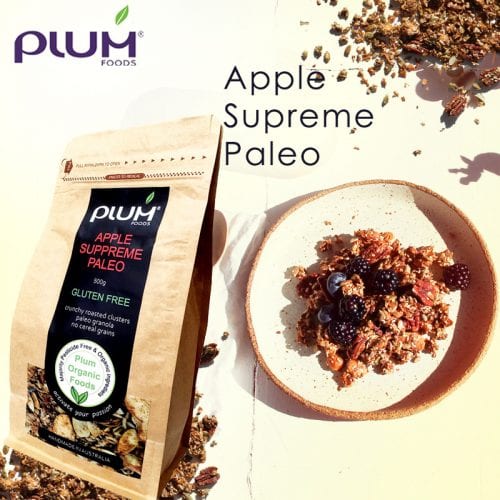 Plum Foods manufacture healthy cereals and their Apple Supreme Paleo is very popular among those that taste crisp and crunchy.  Apple Supreme Paleo is an ideal healthy breakfast which contains no cereal grains. It can be eaten with almond milk and milk.
The main ingredients of Apple Supreme Paleo are organic shredded coconut, raw honey, pesticides free almonds, organic dried apples, virgin coconut oil, almond meal, organic sunflower seeds, raisins, vegetable oil, organic pepitas, organic dried cranberries, organic linseed, organic cinnamon, baking powder, organic vanilla powder and more.
It is rich in protein, fiber, minerals, vitamin E and much more. It is gluten free and organic. It contains no added sugar and it has fruity aroma which will make the heart delight.
A true paleo meal that has no cereal grains so it gluten free.
Visit our online store to know further details about the product and book your favorite products now and get online discounts.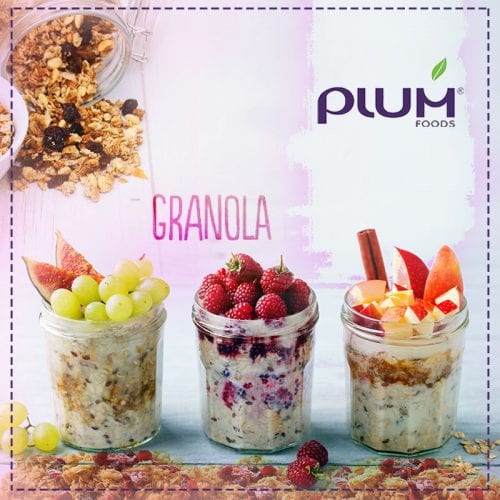 Plum Foods are wholesale granola suppliers. We manufacture Granola and Muesli in Sydney NSW and then distribute to all the suburbs of Sydney, Melbourne, and Brisbane overnight. We offer gourmet healthy breakfast cereals; all our gourmet granolas are majority organic.
Our Granola products have been refined over the years and adjusted to the taste of our consumers. Plum foods offer a special Granola for Paleo food eaters. Our Apple Supreme Paleo Granola is a must try and for those who want completely plant-based food, we have the Maple Nut Crunch Gluten Free Granola. A Vegan Granola which does not even contain honey or any dairy products.
One of our best healthy breakfast foods is the bircher style muesli Fig & Apricot, (serving pictured).
We also have the Cranberry Crunch Granola crunchy roasted gourmet granola with pecans honey and dried cranberries. It is one of our best selling breakfast cereals.
Plum foods are a wholly owned subsidiary of the Opera Foods Group.
With ease-of making and carrying, nutritional value and health benefits, Granola is a hands-down winner of your ideal breakfast choice.
Granola is made up of rolled oats, pressed flat and lightly toasted together with many variations of other ingredients. Honey, nuts and puffed rice are sometimes used as add-ons. It contains fiber, nutrients and valuable minerals in abundance.
Being a good source of Carbohydrates, they provide muscles with the requisite energy for a busy and active day. The bonus is that they are easy to carry on backpacks.
The choice for the spread: You could add fruits such as dates and apricots and have it as a snack. Alternately, you could add spoonfuls of yoghurt, sliced peaches, strawberries and raspberries for a heady mix as a dessert.
JEZVE COFFEE ROSE BAY, in Sydney's eastern suburbs, offers Plum Foods' famous Maple nut crunch Granola, served with yoghurt and toppings of coconut or organic Acai Berry. They also serve shakes smoothies and frappes besides coffee and fresh juices. PLUM foods offer gluten-free organic Paleo Granola for an alternative.
CRANBERRY as a component for a healthy Granola is eminently suitable because of low calories and high values of Vitamins C, A and K…CRANBERRIES contain proanthocyanidins and antioxidants which helps prevent a host of diseases. Cranberries are truly a Super-Food: Reason -it helps improve digestion, prevent urinary tract infection, prevents gum diseases, lowers bad cholesterol and boosts the immune system.
SPELT AGAVE GRANOLA offers a combination of 3 fresh berries-blueberries, blackberries and raspberries..add crunchy granola with yogurt and see how your taste buds light up!
Spelt is a special healthy wheat variety that helps digestion, improves blood circulation, hormonal creation and regulation and maintains bone health.
You can buy all of them from your wholesale food Suppliers Sydney melbourne and Brisbane Opera Foods.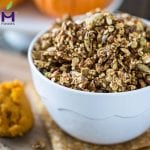 Granola is an extremely popular breakfast food which is loved by many health-conscious people all over the world. It is made up of rolled oats which have been pressed flat and lightly steamed, a bit of honey, nuts and puffed rice is added. Granola is a breakfast which is regularly used by people who travel a lot as it is very easy to carry them in their backpacks.
There are many amazing health benefits of Granola because it includes fiber, nutrients and many valuable minerals. As it contains dietary fibers, it improves the digestive system of our body.
According to researchers breakfast is the most important meal of our entire day because it keeps our brain active and working throughout the day, and hence if you have our organic granola as breakfast it not only reduces the blood pressure of the body but also boosts the speed of nervous response. If you have redness in your skin and associated pain because of sun burn then granola is a great choice of breakfast for you as it contains Vitamin E which protects the skin from premature ageing, sunburn, and wrinkles.
Granola is also one of the best sources of carbohydrates, which provides our muscle with the necessary energy for a busy day. The advantage of having granola is that you can have it in many ways as your breakfast. You can add dried fruits such as dates, apricots and have it as a snack. You can also take a spoonful of granola and a spoonful of yogurt and add sliced peaches, strawberries and raspberries and have it as a dessert.
Fig & Apricot Bircher muesli with a berry coulis fresh fruit and Yogurt is a very health easy breakfast based on the Bircher muesli recipe made famous by Dr Bircher's health muesli.
The Plum Foods brand Fig & Apricot Muesli already comes pre-mixed with organic oats some dried fruits and healthy pesticide free Australian Almonds, so you have Dr Birchers Muesli when you simply add milk. However, this recipe calls for some extra fresh fruit and a bigger dollop of protein rich yogurt.
See the recipe at Opera Foods
https://www.operafoods.com.au/Fig-Apricot-Bircher-Muesli-with-Yogurt-Berry-Coulis
#fig&apricotbircher #bircher #birchermuesli #plumfoods #bircherrecipe #yogurt #freshfruit
Raspberries and Yogurt on Granola – An Easy Healthy Breakfast
A high probiotic, high protein & nutrient rich recipe for serving granola with yogurt & fresh raspberries.
INGREDIENTS:-
100g Maple Nut Crunch organic granola from Plum Foods
120g Low Fat Yogurt
6 large fresh RaspberriesAdd the Granola and yogurt and top with the raspberries. Make sure you wash the fresh raspberries.

Read the details of this recipe and nutritional benefits for this easy healthy breakfast in full at the Opera Foods' food blog.
Recipe for Maple Nut Crunch served as an easy healthy breakfast with yogurt and blackberries.
Ingredients:-
90g Maple Nut Crunch toasted granola.
110g low fat yogurt
7 Large plump fresh Blackberries.

See the full articla and order Maple Nut Crunch at the Opera Foods gourmet store.
A new recipe article  has just been posted on the online gourmet store at Opera Foods for Crunchy Granola with Yoghurt Banana Blueberries Strawberries.
Ingredients:
200g Low Fat Yoghurt
100g Maple Nut Crunch roasted granola from Plum Foods
1 whole small Banana
3 large Strawberries
1 spoonfull of fresh Blueberries.See the full article along with other easy Healthy Breakfast recipes here :-
Opera Foods Easy Healthy Breakfast Recipes