Plum Foods Sydney Delivery
now browsing by tag
A new recipe article  has just been posted on the online gourmet store at Opera Foods for Crunchy Granola with Yoghurt Banana Blueberries Strawberries.
Ingredients:
200g Low Fat Yoghurt
100g Maple Nut Crunch roasted granola from Plum Foods
1 whole small Banana
3 large Strawberries
1 spoonfull of fresh Blueberries.See the full article along with other easy Healthy Breakfast recipes here :-
Opera Foods Easy Healthy Breakfast Recipes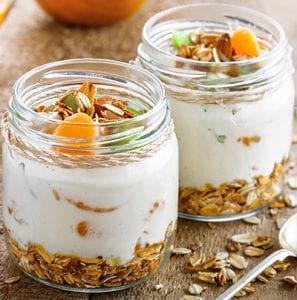 Plum Foods offers gourmet lunches, brunches or an easy healthy breakfast, from the finest Sydney restaurants and cafes.
You will love your lunch, brunch or breckie when its delicious, healthy, affordable and exciting!
Plum Foods' customers brings you gourmet lunches from Sydney's finest restaurants and cafes at great affordable prices.
A gourmet muesli or granola served well, is not just an easy and quick healthy lunch or brunch,  its also not expensive and is available from the quality Plum Foods products range in restaurants and cafes all over Sydney.  Let us help you find Sydney Lunches that beat the budget and look after your health with a sustained wholefoods meal.
If you would like to discover great Sydney lunch venues where you can enjoy a quick Plum Foods  healthy lunch or brunch or breaky see the list of stockists that are cafes in Sydney on our stockists directory on the Opera online gourmet Store.
Cafes and restaurants in Sydney, we deliver to your premises overnight. and invite you to stock Plum Foods gourmet breakfast, brunch or lunch meals that are nutritious, fast and affordable.