healthy cereal
now browsing by tag
Are you a diehard devotee of granola or do you prefer your healthy breakfast with a little less crunch? Do you think muesli got a raw deal whilst granola evolved into muesli plus?
It's a cereal smackdown but who will win the battle of muesli vs granola?
The difference between granola and muesli
If you stood the main ingredients of muesli and granola side by side they would be fairly similar. A healthy breakfast of wholegrains, nuts, seeds, and dried fruit, the major difference between granola and muesli is that muesli is raw whilst granola is baked. To facilitate this baking, and turn raw wholesome muesli into crunchy granola, oil and sugar are added. But there is more to granola than just oil and sugar, and in fact it never evolved from muesli at all.
Which came first – muesli or granola?
Most of us are by now familiar with the story of Bircher muesli and how it came about. But did you know that Bircher muesli was actually the first muesli invented? Never intended as a breakfast food, Swiss muesli was the poster child of healthy living. Other parts of Europe soon caught on, enticed by the clean image of fresh mountain air and pastures green. By 1960, commercial muesli was widely available.
Granola began life in the United States yet it was not the lovechild of muesli and flapjack at all. Muesli and granola both came into being around the end of the nineteenth century but the original granola was made from wheat, not oats.  It was not until the 1960s that fruit and nuts were added by health conscious hippies, and commercial granola was not available until the 1970s. As it turns out, the two cereals may share many similarities but are in fact completely different things.
Muesli vs granola
So, other than grains, nuts, seeds and fruit, what's in the bag? Many commercial brands of muesli may have sugar and milk powder added. If your muesli makes the milk taste rich and sweet, chances are it has plenty of both. Gourmet muesli has far less, if any, of these additions. Granola will have some form of fat, and some form of sweetener, added. What these actually are will vary. Commercial varieties of granola are unlikely to be made with butter as it would turn rancid quickly, but they can contain high amounts of unhealthy hydrogenated or trans fats. Sugar content will vary from refined white sugars and corn syrup to the more acceptable face of honey or maple syrup. Even then, quantity counts.
Muesli is served cold, with milk or juice added. It can be soaked, as in Bircher muesli or overnight oats, or even cooked and served hot like porridge. Muesli is pretty versatile but you probably wouldn't want to snack on a dry handful straight from the box. Granola, on the other hand, was seemingly made for to be eaten naked and unadorned as a snack. Usually served cold, with or without milk, it is not unheard of to serve granola with hot milk. Granola is also an important feature of a granola bowl, smoothie bowl, or acai bowl.
Yet muesli got stuck with the health-food-as-penance reputation whilst granola got to be the good time girl. The acceptable face of oat eating. Both may have began life as health foods, but by the time the food industry got its wicked way neither muesli or granola could claim to be health foods.
Thankfully things have changed and most gourmet granola and muesli are full of the healthy grains, fruits, nuts and seeds that make cereal and milk the ideal healthy breakfast. But is muesli better than granola? Muesli may be less moreish, largely because it has no fat or sugar, but gourmet granola is not all about butter and syrup. Most of our healthy granola has no added sugar and is made with healthy fats.
Toasted muesli vs untoasted muesli
What even is toasted muesli? Is there a difference between granola and toasted muesli? Well, toasted muesli sits somewhere between granola and muesli. It can be made with no sugar or oil, but a little of each helps it along. Toasted muesli won't clump together into crunchy clusters like granola can, but the toasting adds an extra dimension of texture and flavour. Gourmet granola sometimes has more in common with toasted muesli than it does with granola. Which is no bad thing.
Can you make granola from muesli?
Well, yes you can. But why would you want to when there are so many delicious healthy alternatives available? Here's some of our favourite healthy granola, all baked by hand here in Australia.
Apple Supreme Paleo, gluten-free granola
This one is grain-free as well as gluten-free. A blend of fruit, nuts and seeds for the perfect Paleo granola.
A classic double baked muesli. Made with Australian pesticide-free almonds, cranberries, pecans and cinnamon alongside organic rolled oats.
Maple Nut Crunch, gluten-free vegan granola
The gluten-free version of our award winning granola. A gourmet granola with quinoa and puffed buckwheat instead of oats. Because contrary to popular belief, oats are not gluten-free.
An award winning granola made with agave and maple syrup.
Spelt and Agave Nut Crunch Granola
A healthy breakfast idea made with ancient grain spelt as well as organic rolled oats. Uniquely favoured with cinnamon and a touch of cardamom.
Here is a great Bircher Muesli: Fig & Apricot Bircher.
Explore our range of healthy cereals here, or head over to our online store where our healthy breakfast cereals are available to buy in bulk.
So who wins the cereal smackdown? We think both muesli and granola are absolute winners. Aaah.
---
This article was reproduced on this site only with permission from our parent company operafoods.com.au the "Gourmet Online Wholesale Grocer". See the original article here:- Cereal Smackdown – Muesli vs Granola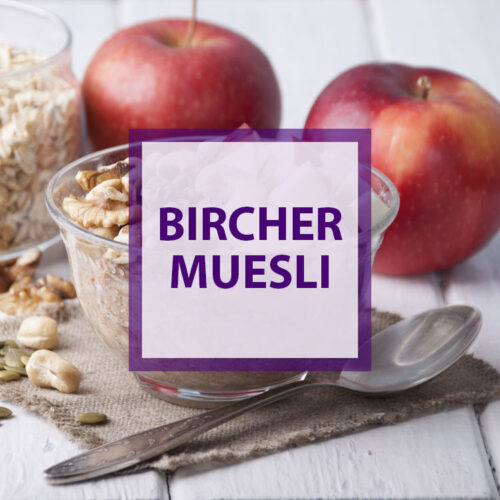 The forerunner to overnight oats, Bircher muesli is a healthy breakfast favourite.
The soaked oats take on a softly different texture to porridge, in a dish that is easy to eat and easy to digest. Which is ideal for the first meal of the day.
Closely related to both muesli and granola, it can be oddly decadent in spite of its wholesome credentials.
What is Bircher muesli?
Bircher muesli was created in the early 1900s by Maximilian Bircher-Brenner. A Swiss doctor, he created the recipe as a way of getting more fruit into his patients. More specifically, apples, which he considered particularly nutritious. A simple recipe of oats, milk, nuts and apples soaked together overnight, it was a soft and easily digestible breakfast for his sanitorium patients. So of course Bircher Muesli is another one of the low sugar cereal products.
Is Bircher muesli healthy?
Like most foods, it can only be as healthy as the ingredients that you make it with. Made with cream and lots of nuts it will be more heavy on calories than if you soak it in water. Made with the four basic ingredients, this healthy breakfast comes with a range of benefits.
Oats are full of fibre, some of which is soluble, that gives an extended feeling of fullness and prevents blood sugar spikes. Magnesium present in oats helps to regulate insulin secretion and they also contain a natural sedative. With plenty of vitamins and minerals, oats are a great source of all round goodness. But have you ever wondered if oats are gluten free?
Maximilian was right about apples; an often overlooked fruit. They also help to regulate blood sugar levels and are a source of soluble fibre. Many of the compounds found in apples improve metabolic balance. Always eat the skin as it contains fibre and may help prevent osteoporosis. Apples are waxed for shelf life, so wash them thoroughly in warm soapy water and rinse well before eating. Allowing the apple to brown a little after grated can help it become more easily digestible. Apples are also a source of vitamin C and iron.
Adding nuts increases the protein content as well as the fibre. Always eat nuts with the skin on to keep the nutrient profile intact. Nuts also provide many essential fatty acids. Almonds are rich in zinc, magnesium, and potassium as well as antioxidant vitamin E. Hazelnuts are rich in antioxidants and contain biotin, a substance that is really good for strong healthy skin and hair.
Using dairy milk, from cows, sheep, or goats, adds the benefit of calcium and vitamin D. Dairy foods also provide vitamin B12 which is essential for a healthy brain and nervous system. Vitamin B3 in dairy milk can also help to burn more calories. Choose full fat milk as it retains the fat soluble vitamins A, D, E and K.
Can you eat Bircher muesli without soaking?
Bircher muesli by default is soaked. Not soaked, it becomes, well, muesli. The soaking process not only makes the oats more digestible by softening them, but helps to break down a substance called phytic acid. Present in all grains (which is why grains are not part of a Paleo diet), phytic acid binds to certain minerals and reduces the uptake of minerals present in the food. You can also include the nuts in the soaking process for the same reason, but they do take on a softer less crunchy texture.
Is Bircher muesli gluten free?
Oats themselves are not gluten free yet low in gluten and are often processed alongside wheat and other cereals so tend to be avoided by those with serious issues around gluten, such as coeliacs. Oats that are not 100% gluten free although some are  labelled as such, and some commercial muesli blends will contain other gluten-containing cereals.
How to make Bircher muesli
Bircher muesli is made by soaking oats in a liquid overnight, and then adding grated apple and nuts. It will keep in the fridge for about 3 days and can be frozen if required.
Vegan Bircher muesli
Making this soft creamy breakfast vegan is easy. Simply use juice, water or non-dairy milk. Nutty almond milk works particularly well, as does creamy oat milk.
Paleo Bircher muesli
Strictly speaking, the Paleo diet is open to personal interpretation depending on the foods you feel your body can tolerate. But in general, whether they contain gluten or not, grains are eliminated from the Paleo diet. You could experiment with some combination of coconut flakes, almond meal, and chia seeds but the results will be a vague approximation rather than a substitute. We think you are far better off with Paleo muesli or granola of nuts, seeds and fruits instead.
Basic Bircher muesli recipe
Soaked overnight, it becomes a soft and simple moreish thing. For the liquid you could use water, apple juice, milk, or for a touch of luxury, mix of half milk/half cream. The classic nuts would be hazelnuts, but you could use almonds, pecans, or walnuts.
You could make bircher muesli with our multigrain porridge oats, or try a bircher muesli mix instead of just oats.
Serves 1
25g oats
90ml liquid
1 apple, coarsely grated
1/4 cup nuts, chopped
Mix the liquid with the oats and soak in the fridge overnight.
Stir in the grated apple.
Top with the nuts and enjoy.
Have you tried Bircher porridge? Make it just like you would regular porridge, but use a Bircher muesli like our Hinterland Bircher Muesli. It's ideal for winter and packed full of yummy things that will make your morning porridge a bit more interesting.
Bircher muesli not your thing? Here's some of our other low sugar cereals.  Or head on over to our online gourmet grocery stores where you can buy healthy cereal in bulk.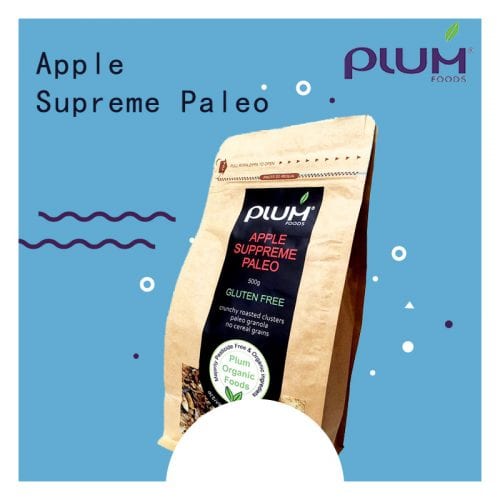 Apple Supreme Paleo by Plum Foods is gluten-free and organic. Plum Foods are the manufacturers of high nutrient wholesale granola. Cereal manufacturers Plum Foods also distribute nutritious breakfast cereals such as bircher muesli, granola, gluten-free, vegan as well as organic oats for making porridge. Apple supreme paleo contains no added sugar do it is a low sugar cereal and it has a fruity flavour which will revive you with a chewy fruity taste. Apple supreme paleo is ideal for healthy breakfasts. This delicious paleo muesli can be eaten with milk, almond milk, fresh fruits and yoghurt. Apple supreme paleo is a palatable paleo granola which contains no cereal grains and it is Gluten Free.
Apple supreme paleo are made with insecticide free almonds, organic shredded coconut, honey,  organic dried apple, organic virgin coconut oil, almond meal, organic sunflower seeds, raisins, organic pepitas, organic dried cranberries, organic linseed, organic cinnamon, baking powder and organic vanilla powder.
Visit our site to know more details about the product. Buy apple supreme paleo and avail online discounts now.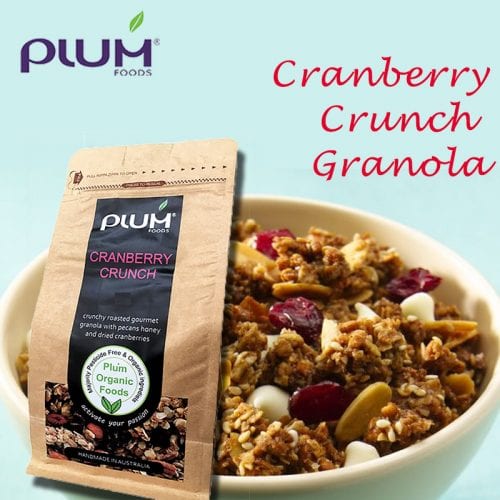 Cranberry Crunch Organic Granola, a healthy breakfast cereal by Plum Foods, is On Sale as a monthly Special right now at $8 per large 1kg pack at operafoods.com.au
Our Cranberry Crunch is a majority organic ingredient granola. Manufactured in Sydney by Plum Foods, this is a really crunchy and crispy granola. Plum Foods want consumers to get to know some of their other granola products (we  are famous for Maple Nut Crunch), so they are offering an introductory deal to see if you like this variety.
You can make an easy breakfast with Cranberry Crunch granola. Cranberry Crunch granola contains no sugar or artificial preservatives.  Cranberries contain phytonutrients particularly proanthocyanidin antioxidants that are important for all-round wellness. Berries provide several health benefits including protection from urinary tract infection, tooth cavities and inflammatory diseases. Our whole food natural ingredients are majority either organic or pesticides free. Cranberry crunch granola is a stable mate to one of the best selling breakfast cereals in Australia.
Cranberry Crunch granola is foil lined pack with zip seal in order to keep freshness. Cranberry crunch granola 1kg is perfect for large families or cafes whereas cranberry crunch granola 500g is ideal for home use.
Visit Opera Foods online gourmet store to know more information about the granola products. Book your favorite product now and get online discounts on this product.
Plum Foods manufacture healthy breakfast cereals including muesli, rolled oats, and granola that helps to sustain energy and resist against illness. The brand of Plum foods delivers award-winning superior quality breakfast cereals. Plum Foods have won gold medals at an international Great Taste Awards.
They supply majority organic and pesticide free ingredient products at an affordable price. Although we do not pay for certification of our products Plum utilizes only certified organic oats as well as insecticides free Australian almonds and other organic produce for the bulk of the ingredients by volume.
Wholesale Granola is regarded as a superior source of protein and healthy fats that are made from seeds, oils, and nuts. It is also regarded as a healthy breakfast cereal. Granola can be of different flavors such as Maple Nut Crunch, Apple Supreme Paleo gluten-free, Cranberry Crunch, Spelt and Agave Nut Crunch and more.
Granola can be served with almond milk, milk, fresh fruit, yogurt and more toppings sold under our sister brand Boost Nutrients. Granola helps to lower blood sugar and cholesterol level as it is rich in the right fats. It will also help to decrease heart diseases, as well as other inflammatory conditions. Granola is rich in most minerals that may help to produce connective tissues, red blood cells and more.
Buy it online at parent company store Opera Foods.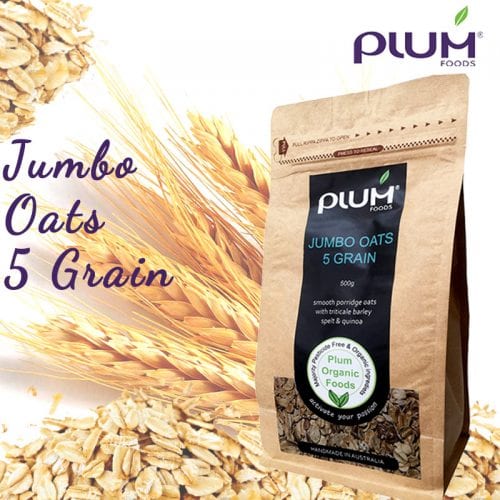 Jumbo Oats 5 Grain is a unique and delicious porridge breakfast cereal product from the Plum Foods brand. Plum Foods are the manufacturers and distributors as well as wholesale muesli suppliers to many Australian independent grocers and fresh retailers. Our distribution company Opera Foods is also part of this Australian family business.
Plum Foods consume natural wholefood elements for the production of nutritious cereals. Jumbo Oats 5 Grain is made up of different varieties of grain such as rolled barley, organic rolled oats, rolled spelled wheat, rolled quinoa as well as rolled triticale. It is rich in protein, fats, carbohydrates, sugars, sodium that helps to sustain your day.
It makes a beautiful nutritious porridge that  is considered as an ideal food for morning breakfast. Porridge is regarded as a classic nutritious cereal that strengthens the energy throughout the day. To make your porridge into a nutrition powerhouse you can add super-food ingredients from Opera Foods' Boost Nutrients brand
Plum Foods offer a large variety of diverse recipes for Granola and Muesli that are majority organic or pesticide free. We also have another specialist brand called Mulberry Tree which deals simply wholefood Muesli and Granola only.
To Order products, in bulk, you can visit our parent company Opera Foods and avail great discounts and offers.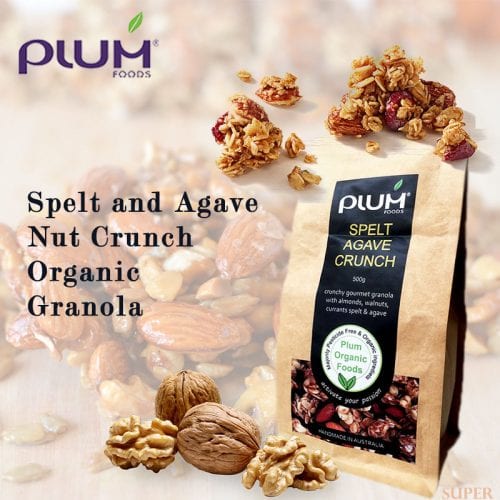 Spelt and Agave Nut Crunch organic granola is one of the crunchiest granola products out there. It is manufactured by Plum Foods Australia brand. Plum Foods are focused on being nutritious cereal producers as well as premium granola suppliers with majority organic ingredients. We deliver overnight to Melbourne, Brisbane, and Sydney. The Spelt Agave Nut Crunch granola is quick as well as an easy nutritious whole food breakfast.
Our Spelt and Agave Nut Crunch organic granola is regarded as a nutritious gourmet granola that is low in suger with no added sugar. It is comprised of wholemeal spelt flour, organically grown oats, oleic sunflower oil, agave syrup, sunflower seeds, maple syrup, pesticides free almonds, currants, walnuts, sea salt as well as vanilla spices. Organic granola contains vitamin E, protein, fiber and it provides certain health benefits. The health benefits of consuming low GI healthy and crunchy granola include low cholesterol levels, increases energy, resist anemia and many more.
But it online from parent company Opera Foods who also distribute our healthy cereals to independent grocers.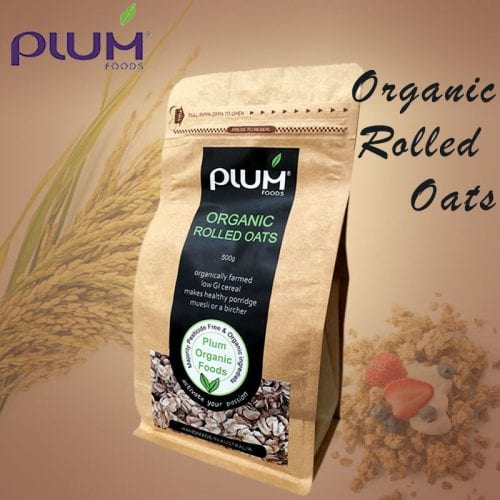 Organic rolled oats is a leading product of Australian cereal manufacturer Plum Foods  that is grown organically. Organic rolled oats are rich in fiber as well as antioxidants they are among the best organic cereals.
According to the researcher, oats are considered as the healthiest breakfast cereal in Australia and is very low in gluten. Whilst Organic oats are not totally gluten free, Oats is very low in gluten and even some coeliacs can tolerate it. The researchers have suggested that people should have oaten porridge at breakfast as it increases the stamina of an individual. Organic rolled oats can be grown in cool, respective moist climate and it is suitable to grow in any type of soils that contain alkaline between 5.5 as well as 7.0. Organic rolled oats are grown pesticides free and it does not contain any respective chemical residues. Organic rolled oats are rich in fiber; therefore, it helps to lower cholesterol levels of an individual.
Plum Foods are wholesale granola manufacturers who pack and produce their own products. All our products have majority organic and/or insecticide-free ingredients which will help you in maintaining your healthy breakfast cereal diet. Buy Plum Foods organic oats here.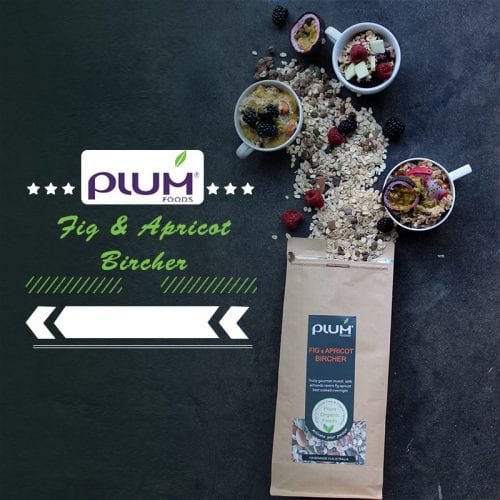 Plum Foods offers to satisfy crunchier breakfasts for discerning food lovers. Granolas are healthy, homemade, comforting and a delicious dish for working moms. They are super crunchy and gluten-free which makes them desirable among people of all ages.
Plum foods offer a great range of gourmet granola products such as Maple Nut Crunch Granola, Fig, and Apricot Bircher Muesli (pictured), Cranberry Crunch Granola and even paleo breakfast. Our product does not include artificial colors or hydrogenated oils but they are made up of majority organic ingredients great granolas and muesli of the best quality.
We are manufacturers and deliverers of healthy breakfast cereals such as wholesale Granolas & Muesli. We also have a long-established brand for Muesli products called the Mulberry Tree. Visit our online store or call us for wholesale delivery details.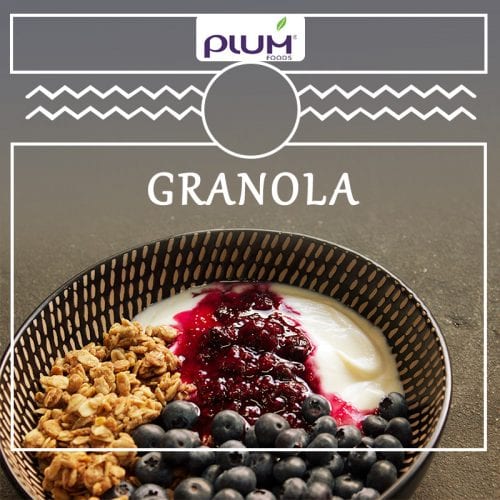 Granola and Muesli are healthy breakfast cereals which come under the category of "eat it like you would" because of the different possible ways and combinations you can have it. You can cook them and turn them into porridge, or soak them overnight and add sliced fresh fruits and dried fruits. Granola bowls and Smoothie bowls can be gluten-free when not made with rolled oats. We offer some Gluten free  products with natural Australian ingredients which are manufactured under HACCP certified conditions.
Plum Foods is a gourmet granola and muesli brand, where you can find different types of healthy breakfast cereals. You can visit our online gourmet grocery shop to find more. We also offer a different brand called Mulberry Tree to promote our Muesli products there. Opera Foods are the granola suppliers and parent company which deals in all types of gourmet products and mostly our own brands. For wholesale bulk delivery to retailers, we suggest you visit our wholesale granola hub at Opera Foods.