Plum Foods
now browsing by tag
Cranberries are a perfect component for a healthy granola or muesli breakfast that is quick and easy. Cranberries are low in calories and high in vitamin C, vitamin A, and also vitamin K.
Easy Healthy Breakfast
Try Plum Foods's gorgeous ready to go Cranberry Crunch organic granola with almonds that is already loaded with dried cranberries. Add any fresh in-season berries like Blueberries or any other fresh fruit. Top it with some milk, almond milk and a big dollop of yogurt to add some protein for an easy healthy breakfast. Hard To beat for great nutritional value and sheer convenience.
Cranberry Nutritional Value
Cranberries contain proanthocyanidins an antioxidant that helps prevent a range of diseases. Cranberries improve digestion, help prevent urinary tract infections, help prevent gum disease, reduces bad cholesterol, and will boost your immune system.One of the natural super-foods.
Available in either 500g bag or family 1kg bulk pack. Buy Plum Food's Cranberry Crunch in bulk online direct from the granola manufacturer at Opera Foods website. (Plum Foods is a subsidiary of Opera Foods Pty Ltd)
#cranberrycrunch #plumfoods #operafoods #easyhealthybreakfast #granola #crunchygranola #cranberries #antioxidants #reducecholesterol  #cholesterol #urinarytractinfections #boostimmunesystem #immunesystem #bulkgranola #breakfast #yogurt #blueberries #gumdisease #freshfruit #almonds #almondmilk #milk #nutrition #proanthocyanidins
Plum Foods manufacture a wide range of low sugar healthy granola and muesli mixes designed to give you an easy healthy breakfast that is flexible to suit any family members individual preferences.
For a high protein meal serve your Plum Foods granola with milk, yogurt or almond milk. Plum Foods' range are based on Pesticide free Australian almonds so they are naturally high in protein with no added sugar.
Fresh Fruits that are high in protein are: – guavas, apricots, kiwifruit, avocados, blackberries, oranges, bananas, raspberries, cantaloupe and peaches.
Plum Foods also offer Organic Oats, Organic wholemeal flour and pesticide free almonds as stand alone products. Buy Plum Foods brand Maple Nut Crunch organic granola in Sydney at; About Life Stores, Taste Organic stores, Scoop Wholefoods Stores, Greenwood Grocer North Sydney, Fourth Village Mosman, Parisis Foodhall Rose Bay, IGA Market Central Wentworth Point, Craigs Cheese Shop BONDI JUNCTION, FruitEzy Chatswood & Chatswood Chase, The Health Emporium BONDI, Vaucluse Fruit Shop. You will also find Maple Nut Crunch served at many Sydney Cafes (because its the best). #plumfoods #maplenutcrunch #easyhealthybreakfast #granola #organicgranola #freshfruit #aboutlife #tasteorganic #scoopwholefoods #greenwoodgrocer #fourthvillage #parisis #parisisfoodhall #igamarketcentral #craigscheesshop #fruitezy #healthemporium #vauclusefruitshop #sydneycafes #sydney #gourmetgranola #organicoats #organicporridge #porridge #crunchy
Raspberries and Yogurt on Granola – An Easy Healthy Breakfast
A high probiotic, high protein & nutrient rich recipe for serving granola with yogurt & fresh raspberries.
INGREDIENTS:-
100g Maple Nut Crunch organic granola from Plum Foods
120g Low Fat Yogurt
6 large fresh RaspberriesAdd the Granola and yogurt and top with the raspberries. Make sure you wash the fresh raspberries.

Read the details of this recipe and nutritional benefits for this easy healthy breakfast in full at the Opera Foods' food blog.
Recipe for Maple Nut Crunch served as an easy healthy breakfast with yogurt and blackberries.
Ingredients:-
90g Maple Nut Crunch toasted granola.
110g low fat yogurt
7 Large plump fresh Blackberries.

See the full articla and order Maple Nut Crunch at the Opera Foods gourmet store.
A new recipe article  has just been posted on the online gourmet store at Opera Foods for Crunchy Granola with Yoghurt Banana Blueberries Strawberries.
Ingredients:
200g Low Fat Yoghurt
100g Maple Nut Crunch roasted granola from Plum Foods
1 whole small Banana
3 large Strawberries
1 spoonfull of fresh Blueberries.See the full article along with other easy Healthy Breakfast recipes here :-
Opera Foods Easy Healthy Breakfast Recipes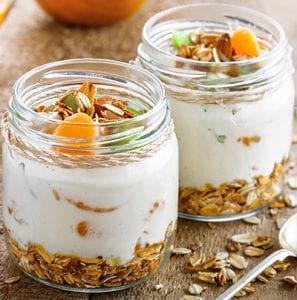 Plum Foods offers gourmet lunches, brunches or an easy healthy breakfast, from the finest Sydney restaurants and cafes.
You will love your lunch, brunch or breckie when its delicious, healthy, affordable and exciting!
Plum Foods' customers brings you gourmet lunches from Sydney's finest restaurants and cafes at great affordable prices.
A gourmet muesli or granola served well, is not just an easy and quick healthy lunch or brunch,  its also not expensive and is available from the quality Plum Foods products range in restaurants and cafes all over Sydney.  Let us help you find Sydney Lunches that beat the budget and look after your health with a sustained wholefoods meal.
If you would like to discover great Sydney lunch venues where you can enjoy a quick Plum Foods  healthy lunch or brunch or breaky see the list of stockists that are cafes in Sydney on our stockists directory on the Opera online gourmet Store.
Cafes and restaurants in Sydney, we deliver to your premises overnight. and invite you to stock Plum Foods gourmet breakfast, brunch or lunch meals that are nutritious, fast and affordable.
A report recently published in The Medical Journal Of Australia shows, that Victorian Environmental Health Officers found numerous fake claims during their last, surprise visits, survey of food outlets. They were checking food advertised as gluten-free.
Their analysis showed that 9% were not compliant with the Food Standards Australia New Zealand definition of gluten-free. Consumption of  gluten free food has become an unfortunate fad among many consumers, however it is the only treatment for those rare few with coeliac disease. An extended article on false gluten free claims  is published on Opera Foods gourmet food Store.
Gluten free foods need to be manufactured in separate contamination free premises.
#plumfoods #glutenfree #falseclaims
The Gourmet Muesli Diet.
If you are getting on a bit, and overweight, it might be time to have a good hard look at yourself ? The only way to really get healthy is to eat and exercise right and get yourself to a healthy weight that is not straining your organs.
 You don't have to do anything extreme to achieve a healthy body. You dont need a diet or an exercise regime that stresses you. You just need a healthy attitude and a moderate eating and exercise mindset to gradually pull your body back to a healthy level and ensure you can enjoy life a lot longer.
One of the main ways to do that is with convenient foods that are natural wholefoods and one of the most convenient meals you can make is a granola or muesli bowl topped with fresh fruit & yoghurt. Unless your eating one of those sugar loaded commercial brands from the supermarket, its an easy healthy breakfast.
What Should I weigh?
A standard BMI index test uses your height and frame structure to indicate what the ideal weight for your particular body is. Its not an exacting science but can be quite revealing to those who have let the kilos accumulate as they age.
According to the BMI index, for my height and age and frame structure for example , I should be about 88kg. When I was 21 years of age however , I was a skinny thing about 80 kgs, so I figure that I could now be 80-90kg and still reasonable.  When you work out your BMI index you will have a pretty good idea of what you should weigh. You can google a BMI index calculator easily. So if you have a long way to go to get to a healthy weight, then you need a serious plan.
What is the Plan.
Many people have had many failed diets over the years and its not until you decide that you need a lifestyle change and an eating style change that you will get steady weight reductions rather than a yo yo diet that really will stress your critical organs.
Go for a middle of the road eating plan that's more of a lifestyle change and not hard to manage, but  write it down and track it and talk to yourself about it regularly to ensure you stick to it.
Plum Foods sells a range of gourmet muesli and gourmet granola which are perfect dietary base foods and its a solid start to base a dietary lifestyle change on a gourmet muesli/granola breakfast to start each day with an energy packed breakfast that will give you longer endurance throughout  the day with low GI ingredients.
Most importantly you should publicly declare your lifestyle diet, so that your friends and family and maybe even fellow staff and customers,  who feel the need, can encourage you, or berate you. So tell them  "whenever you see me, please demand to know if I have lost weight this week".
Here is our simple weight loss lifestyle plan
MONTH ONE PLAN – NO SNACK FOODS – N0 DESERTS – NO COOKIES
Breakfast: Plum Foods Gourmet granola – Maple Nut Crunch, 100g with A2 milk or yoghurt & Coffee
Mid morning : Coffee or tea (perhaps a good Matcha Tea) , plus 1 small piece of fruit if you had no fresh fruit on the granola.
Lunch: Cold Chicken salad. (one piece of chicken, cheese, lettuce, olives, cucumber, tomato, onion)
Mid afternoon: Tea. 2nd small piece fruit
Dinner (by 6:30pm): 1 Big Soup, No Main. (2nd small piece of fruit can follow if not taken in afternoon)
Morning Exercise: Exercise bike or treadmill 15 minutes, increasing each week by a minute until you are doing 30 minutes daily. Or at least 5 days per week. (People might say get outside and walk in the fresh air, but with a big TV in front of your treadmill you might find that its less of a chore and you will have done 15 minutes before you know it, if your entertained.).
MONTH TWO ETC
Repeat. Change up the light lunch and get variety in your evening soups. Try a different Plum Foods granola or muesli. (their all low sugar, wholefoods that are blended to give you a healthy nutritious meal). This is your eating lifestyle now.
Why not order a carton of muesli, granola or porridge oats from Plum Foods and be prepared for Easy healthy breakfasts for a month or two.