healthy granola
now browsing by tag
Plum Foods produce great healthy cereals and our Spelt and Agave Nut Crunch organic granola is very popular among those that taste crunchy and crisp. Spelt and Agave Nut Crunch organic granola is a healthy and nutritious breakfast cereal that is easy and quick to make. It contains no added sugar and artificial stuff in it. It should be simply served with milk, almond milk, fresh fruits and or yogurt.
Spelt and agave nut crunch organic granola contains whole meal spelt flour, organic oats, high oleic sunflower oil, agave syrup, sunflower seeds, maple syrup, insecticide free almonds, cinnamon essence, cardamon, walnuts, currants, sea salt and vanilla spices. It is rich in protein, fiber, minerals, vitamin E that will help to prevent against illness.
Plum foods offer organic and Australian products which are produced and packed under the HACCP certified conditions. Order your favorite product from our Online Store and avail great discounts.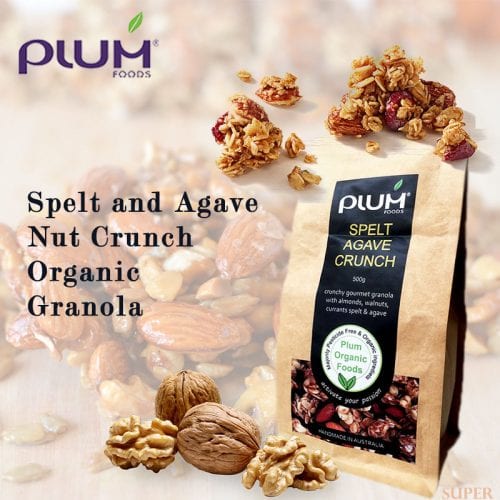 Spelt and Agave Nut Crunch organic granola is one of the crunchiest granola products out there. It is manufactured by Plum Foods Australia brand. Plum Foods are focused on being nutritious cereal producers as well as premium granola suppliers with majority organic ingredients. We deliver overnight to Melbourne, Brisbane, and Sydney. The Spelt Agave Nut Crunch granola is quick as well as an easy nutritious whole food breakfast.
Our Spelt and Agave Nut Crunch organic granola is regarded as a nutritious gourmet granola that is low in suger with no added sugar. It is comprised of wholemeal spelt flour, organically grown oats, oleic sunflower oil, agave syrup, sunflower seeds, maple syrup, pesticides free almonds, currants, walnuts, sea salt as well as vanilla spices. Organic granola contains vitamin E, protein, fiber and it provides certain health benefits. The health benefits of consuming low GI healthy and crunchy granola include low cholesterol levels, increases energy, resist anemia and many more.
But it online from parent company Opera Foods who also distribute our healthy cereals to independent grocers.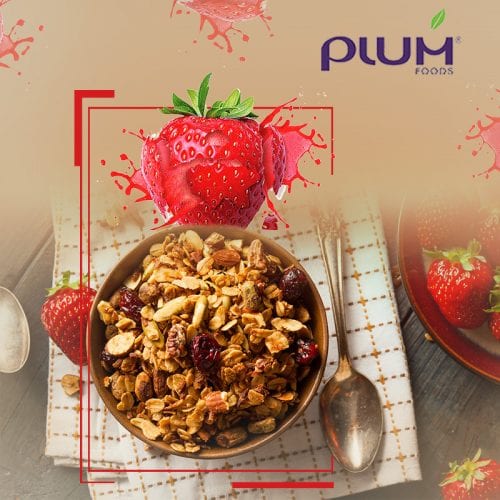 Granola is considered to be breakfast as well as a snack food that comprises of rolled oats, nuts, honey and some fruit for sweeteners but ours has no added sugar. During the period of making granola, several processes are followed for the production of organic wholesale granola. At the time of baking, respective mixtures are stirred well for the maintenance of respective cereal consistency in breakfast.
Sometimes dried fruits such as raisins, dates are added for making the texture good. People prefer to have granola with honey, yogurt, fresh fruits including strawberries, blueberries, bananas and it can be eaten with milk and several kinds of cereals. During the time of camping, hiking and backpacking, people carry granola as it is considered to be a nutritious, rich in calories, lightweight and it is also convenient to store during backpacking and hiking. The health benefits of granola include improvement of digestion, and blood sugar control from Low GI Ingredients.
Plum foods are a healthy breakfast cereal provider company. We have different varieties of Granola and Muesli products which are perfect for you to start your healthy breakfast diets including Gluten Free.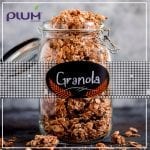 Granola is a healthy breakfast cereal which is similar to Muesli in texture and shape but is healthier and tastier when compared to the former. Granola bowl with yogurt is highly rated as a good energetic morning breakfast among health-conscious people. They are a great source of fiber, vitamins, proteins, and essential nutrients which are required by our body. Granola also serves as a quick and easy-go-to meal while adding other nutrients having a busy and a hectic day. All our granola products are wholefood ingredients with no added sugar-which makes us stand out from the rest.
Plum foods manufacture healthy breakfast cereals and different kinds of granola and muesli. We manufacture and deliver products overnight in Sydney, Melbourne & Brisbane and promptly to other regions. Our granola products like Cranberry Crunch Granola and Maple Nut Crunch Granola have also won a gold medal at the Great Taste Awards.
Plum Organic Foods Pty Ltd and Plum Foods Australia Pty Ltd are wholesale granola supplier subsidiaries of Australian wholesale food suppliers Opera Foods.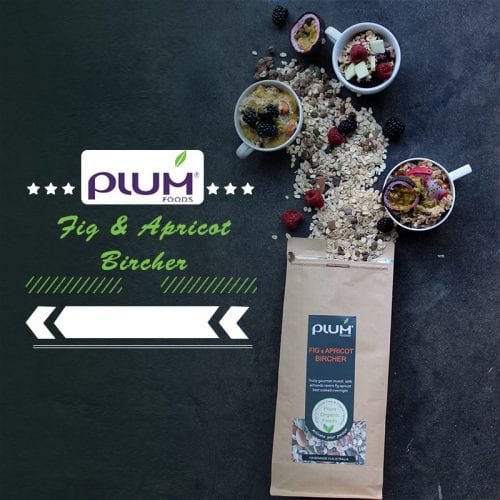 Plum Foods offers to satisfy crunchier breakfasts for discerning food lovers. Granolas are healthy, homemade, comforting and a delicious dish for working moms. They are super crunchy and gluten-free which makes them desirable among people of all ages.
Plum foods offer a great range of gourmet granola products such as Maple Nut Crunch Granola, Fig, and Apricot Bircher Muesli (pictured), Cranberry Crunch Granola and even paleo breakfast. Our product does not include artificial colors or hydrogenated oils but they are made up of majority organic ingredients great granolas and muesli of the best quality.
We are manufacturers and deliverers of healthy breakfast cereals such as wholesale Granolas & Muesli. We also have a long-established brand for Muesli products called the Mulberry Tree. Visit our online store or call us for wholesale delivery details.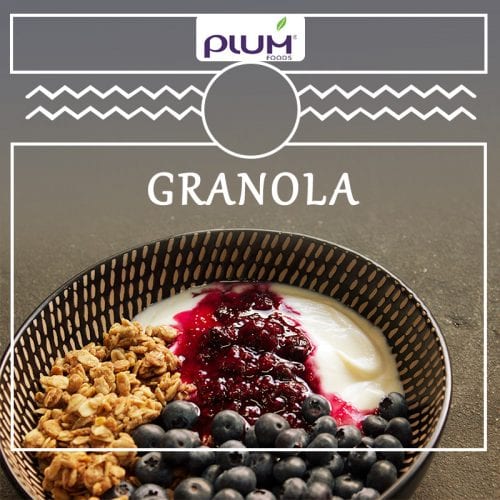 Granola and Muesli are healthy breakfast cereals which come under the category of "eat it like you would" because of the different possible ways and combinations you can have it. You can cook them and turn them into porridge, or soak them overnight and add sliced fresh fruits and dried fruits. Granola bowls and Smoothie bowls can be gluten-free when not made with rolled oats. We offer some Gluten free  products with natural Australian ingredients which are manufactured under HACCP certified conditions.
Plum Foods is a gourmet granola and muesli brand, where you can find different types of healthy breakfast cereals. You can visit our online gourmet grocery shop to find more. We also offer a different brand called Mulberry Tree to promote our Muesli products there. Opera Foods are the granola suppliers and parent company which deals in all types of gourmet products and mostly our own brands. For wholesale bulk delivery to retailers, we suggest you visit our wholesale granola hub at Opera Foods.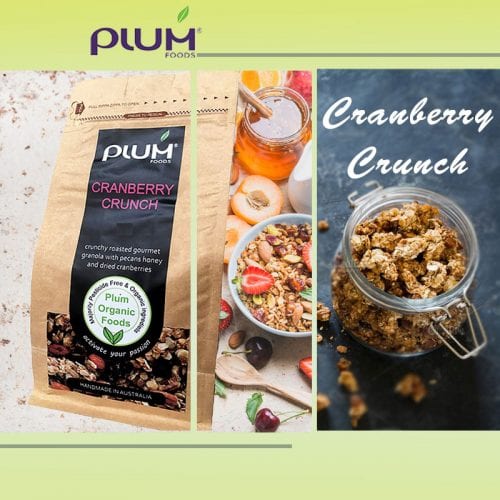 Granola has gained popularity over the last decade or so as one of the healthy breakfast cereals in Australia. But not all granola brands are healthy even though it might seem delicious to you. Hence you have to be very careful while choosing the recipe as well as the brand to include healthy granola in your breakfast diet. Granola is e a great source of whole grains, fiber, protein and vitamins.
All our products here at Plum Foods are a perfect mixture of organic oats, pesticide free almonds as well as other seeds and nuts and dried fruit with no added sugar. The uniqueness of our products has helped us to be recognized globally and have also been awarded gold medals at the Great Taste awards of UK.
The Cranberry crunch granola is a quick and easy breakfast meal which is low sugar. Cranberries are rich in phyto-nutrients like which are essential for the all round wellness of our body. Plum Foods offers 1kg Cranberry Crunch Granola which is perfect large families while the 500gm pack is ideal for most retail sales.
Plum Foods are healthy cereal suppliers of gourmet muesli, grocery retailers and wholesale granola breakfast cereals. Check our online store for more details.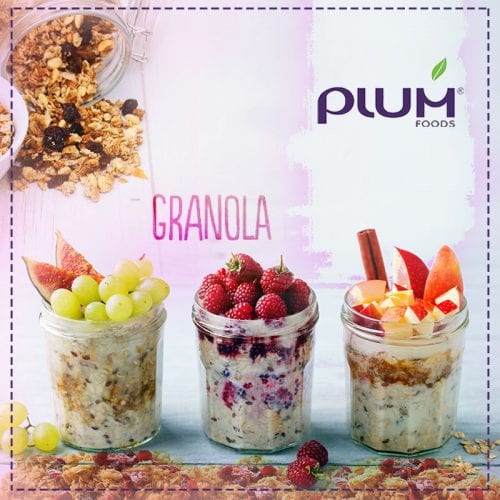 Plum Foods are wholesale granola suppliers. We manufacture Granola and Muesli in Sydney NSW and then distribute to all the suburbs of Sydney, Melbourne, and Brisbane overnight. We offer gourmet healthy breakfast cereals; all our gourmet granolas are majority organic.
Our Granola products have been refined over the years and adjusted to the taste of our consumers. Plum foods offer a special Granola for Paleo food eaters. Our Apple Supreme Paleo Granola is a must try and for those who want completely plant-based food, we have the Maple Nut Crunch Gluten Free Granola. A Vegan Granola which does not even contain honey or any dairy products.
One of our best healthy breakfast foods is the bircher style muesli Fig & Apricot, (serving pictured).
We also have the Cranberry Crunch Granola crunchy roasted gourmet granola with pecans honey and dried cranberries. It is one of our best selling breakfast cereals.
Plum foods are a wholly owned subsidiary of the Opera Foods Group.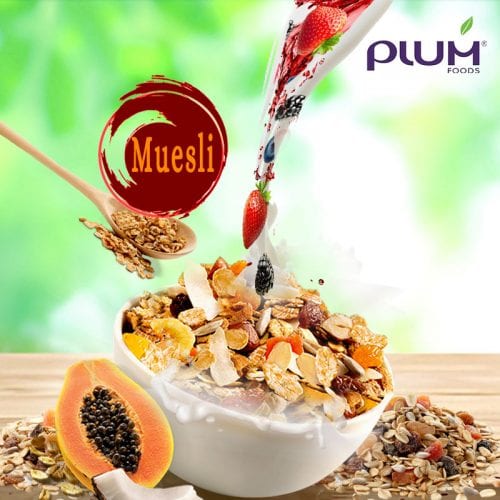 Plum Foods specializes in majority organic and/or insecticide-free cereals without compromising on the desired features of taste and ease-of-making. Thoughtfully, they is low on the GI (Glycemic Index).
You could add different fruit combinations to produce a wide range of tastes and nutritional content.
One such combination, the Fig and Apricot Bircher Mix are composed of organic oats, rice flakes, figs, pesticide-free almonds and gorgeous spices, sunflower kernels, sultanas, etc., to make the food temptingly tasty.
The energy will thus give will see you through an active and hectic day. It too has been very popular and in good demand for several decades and still going strong. Porridge oats are soaked in milk gets the texture and taste.
Gourmet grocers stock these ranges in a 500g pack and 1Kg packs are also available for large families and Cafes. Please visit Sydney Melbourne and Brisbane specialist wholesale suppliers Opera Foods for all your needs.
With ease-of making and carrying, nutritional value and health benefits, Granola is a hands-down winner of your ideal breakfast choice.
Granola is made up of rolled oats, pressed flat and lightly toasted together with many variations of other ingredients. Honey, nuts and puffed rice are sometimes used as add-ons. It contains fiber, nutrients and valuable minerals in abundance.
Being a good source of Carbohydrates, they provide muscles with the requisite energy for a busy and active day. The bonus is that they are easy to carry on backpacks.
The choice for the spread: You could add fruits such as dates and apricots and have it as a snack. Alternately, you could add spoonfuls of yoghurt, sliced peaches, strawberries and raspberries for a heady mix as a dessert.
JEZVE COFFEE ROSE BAY, in Sydney's eastern suburbs, offers Plum Foods' famous Maple nut crunch Granola, served with yoghurt and toppings of coconut or organic Acai Berry. They also serve shakes smoothies and frappes besides coffee and fresh juices. PLUM foods offer gluten-free organic Paleo Granola for an alternative.
CRANBERRY as a component for a healthy Granola is eminently suitable because of low calories and high values of Vitamins C, A and K…CRANBERRIES contain proanthocyanidins and antioxidants which helps prevent a host of diseases. Cranberries are truly a Super-Food: Reason -it helps improve digestion, prevent urinary tract infection, prevents gum diseases, lowers bad cholesterol and boosts the immune system.
SPELT AGAVE GRANOLA offers a combination of 3 fresh berries-blueberries, blackberries and raspberries..add crunchy granola with yogurt and see how your taste buds light up!
Spelt is a special healthy wheat variety that helps digestion, improves blood circulation, hormonal creation and regulation and maintains bone health.
You can buy all of them from your wholesale food Suppliers Sydney melbourne and Brisbane Opera Foods.