paleo
now browsing by tag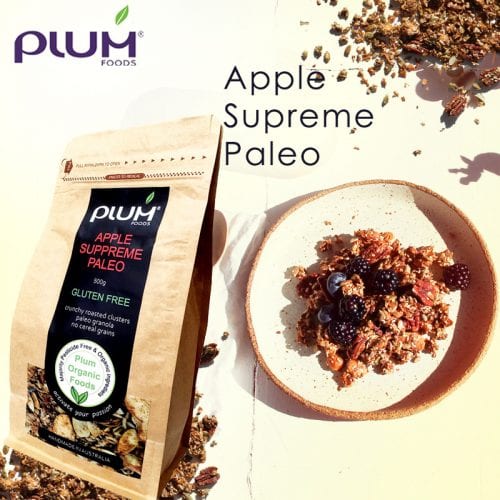 Plum Foods manufacture healthy cereals and their Apple Supreme Paleo is very popular among those that taste crisp and crunchy.  Apple Supreme Paleo is an ideal healthy breakfast which contains no cereal grains. It can be eaten with almond milk and milk.
The main ingredients of Apple Supreme Paleo are organic shredded coconut, raw honey, pesticides free almonds, organic dried apples, virgin coconut oil, almond meal, organic sunflower seeds, raisins, vegetable oil, organic pepitas, organic dried cranberries, organic linseed, organic cinnamon, baking powder, organic vanilla powder and more.
It is rich in protein, fiber, minerals, vitamin E and much more. It is gluten free and organic. It contains no added sugar and it has fruity aroma which will make the heart delight.
A true paleo meal that has no cereal grains so it gluten free.
Visit our online store to know further details about the product and book your favorite products now and get online discounts.
Apple Supreme Paleo is an organic healthy breakfast cereal by Plum Foods the Australian organic granola and muesli manufacturers of easy healthy breakfast cereals.
This is a Gluten Free organic Paleo granola. Top shelf and great easy healthy breakfast.
Buy it online from your organic cereal and Australian granola manufacturers at Plum Foods.
#paleo #glutenfree #applesupremepaleo #organic #healthybreakfastcereal #plumfoods #australianorganic #granola #organicgranola  #muesli #manufacturers #mueslimanufacturers #easyhealthybreakfast #breakfastcereals #paleogranola #glutenfreegranola #healthybreakfast