healthy breakfast cereal
now browsing by tag
We all know that cereals are carbs, right? And that carbs are the enemy of ketosis. But can you eat granola on keto?
What is the keto diet?
Keto is short for ketogenic. The keto diet is a very low-carb, high-fat diet that may help you lose weight and benefit your health.
How does the keto diet work?
As the name suggests, the aim of the keto diet is to put your body in ketosis. A metabolic state that enables the body to become more efficient at burning fat for energy, ketosis is said to reduce blood sugar and regulate insulin levels. In ketosis, your body uses fat for fuel instead of carbohydrates, yet normally the metabolism relies on glucose for energy. Limiting intake of carbs reduces the availability of glucose, causing the metabolic pathways to shift direction and burn fat for energy instead.
Keto macros
The principles behind keto are not quite as simple as just reducing carbs. Successful ketosis relies on a ratio of macronutrients that will not only be slightly different for each individual but will also alter over time and according to changing variables. Measuring the macronutrients of carbs, protein and fat ensures optimal calorie intake but also affects the equilibrium of ketosis. You can start your keto diet on a certain ratio but from there it is all about observation and fine-tuning.
The standard ratio for keto is 10% carbs, 20% protein, 70% fat. Guidelines recommend levels between: 5-10% carbs, 15-30% protein, 60-75% fat.
Although foods are generally classed in groups according to the main macronutrient, most (if not all) foods contain a proportion of each. So, when calculating, the entire macronutrient composition must be taken into account.
How many carbs per day on keto?
To get from a percentage to a usable measurement, such as grams, you need to do some calculations based on your overall daily calorie target. You also need to know that carbs provide 4 kcal energy per gram.
For instance, on 2000 kcal a day, 10% carbohydrate would be 200 kcals. Divide 200 by 4 and you get a carb goal of 50g per day. When calculating carbs, you need to use the figure for net carbs, as oppose to total carbs. The numbers for net carbs do not include fibre, as this is not absorbed by the body and therefore provides no energy. On the other hand, the numbers for total carbs include the grams of fibre.
Healthy fats for keto
A successful keto diet is as much about quality as it is quantity. A diet based around whole natural foods, with a focus on nutrient density and macronutrients is as important on keto as any other eating plan.
Whilst saturated fats are accepted as vital sources of nutrients, there are a wide range of plant-based fats that support overall health. Nuts and seeds, and their derivative oils, as well as coconut oil and olive oil are all healthy fats for a keto diet.
How much protein on keto?
It can be easy to get too much protein on a keto diet. When you eat too much protein it may inhibit ketosis as the body can convert amino acids (the building blocks of protein) into glucose. As protein releases the same amount of energy as carbohydrates, the calculation for optimal intake is the same. Again, nuts and seeds are recommended sources on the keto diet. A pretty much perfect food, they are low in carbohydrate, and high in protein as well as healthy fats.
Did you know that almonds are one of the most versatile nuts for a keto diet?
Keto breakfast
Breakfast is hard enough when you are gluten-free, but low-carb? A potential minefield.
Nutritionally speaking, the best foods for  a healthy breakfast are believed to be grains, dairy and fruit, and the benefits of cereal and milk are widely accepted. Eggs are the go-to ingredient for a keto breakfast, closely followed by pork products such as bacon and sausages. But what if you want a keto breakfast with no eggs? What if you are mindful of saturated fat and excess protein? Not to mention sodium. It's an Atkins nightmare all over again. And then there is time. Or not. Very few people can manage to cook, let alone eat, a hot meaty breakfast before heading out the door in the early morning. Sure, where there's a will there's a way but that's why breakfast cereal was invented yeah? Convenient, crunchy, and easy on the digestion.
Keto cereal
Breakfast cereal is generally made from grains. Aka cereals. Aka carbs. Which of course are a big nay-nay for the fat-burning bod.
What cereal can you eat on the keto diet?
Some breakfast cereals are lower in carbs than others yet will still use up your entire weekly carb allowance in one glorious bowl. The market has got wiser as far as individual dietary preferences are concerned and the available range is far wider than it once was. You do need to check your labels carefully though. Grain-free is your best bet, but may come with whopping amounts of sugar. Better still would be a breakfast cereal labelled keto. Imagine that 😉
Can you eat granola on keto?
The short answer is pretty much no. But keto granola does exist. Based on nuts and seeds, with a handful of healthy fat thrown in, keto granola is just the thing for a cold and crunchy keto breakfast.
Can you have milk on a keto diet?
But what about the milk? It is that combo of cold cold milk and crunchiness that makes granola such a lovely thing. Can you have milk on a keto diet?
Dairy milk, from cows or goats, might be chock full of nutrients including protein and fats, but they also come with a moderately high amount of carbs. One cup of cows milk has 12g net carbs. Goats milk has marginally less.
And it is not just dairy. Many alternative milks come with a ton of carbs too. Oat milk (unsurprisingly) has 17g net carbs per cup. Rice milk is even higher at 21g.
Also unsurprisingly, almond milk is THE milk of choice for keto, with just 1g of carbs per cup. Yay. If you make your own almond milk it tastes better and has no sweeteners of fillers that you didn't put there yourself.
What about keto-friendly fruit?
A bowl of granola needs a bit of fruit, but unfortunately this is also a keto minefield. Our advice is to go for berries, some of the lowest carb fruit around. At between 6-9g carbs in half a cup of raspberries, strawberries, or blueberries, they certainly aren't for everyday but make an excellent nutrient boost to breakfast a few times a week.
Watch out for our keto granola coming soon…
In the meantime, check out our other low sugar granola or buy healthy cereals at wholesale prices from our online bulk food store.
---
This Article was reproduced with permission from Opera Food's article:- "Can you eat granola on keto?" dated 22nd June 21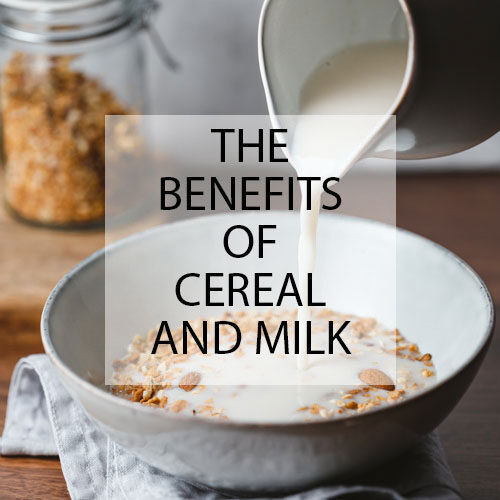 The benefits of cereal and milk for breakfast, with a portion or two of fruit added, are widely accepted within the nutritional community.
Studies have shown that a balanced healthy breakfast is composed of –
A 30g serving of wholegrains
A 150g portion of fruit
A 250ml serving of milk
So, it is all good to go on that granola!
Why are cereals important in our diet?
The question of the importance of cereals in our diet is a divisive one. Partly carbohydrate conundrum, with issues of gluten involved, and concern over phytic acid thrown in, the eating of grains is certainly a contentious topic. Largely, we agree on the fact that over-consumption of refined grains can lead to health problems. Yet there are many benefits associated with wholegrains.
Wholegrains are the seeds of grass type plants called cereals. Rice, wheat and sorghum are all grains. Buckwheat and quinoa are pseudo-cereals. Intact, with minimal processing, they contain a wide range of minerals, vitamins, fibre, fat, protein and carbohydrate.
A regular diet of wholegrains may help to lower the risk of heart disease and stroke and regulate blood sugar levels. Wholegrains are excellent for digestive health because they are full of fibre. Grains are also a comparatively low cost food, providing bulk to our diet.
Gluten-free cereal
For those of us with coeliac disease or gluten intolerance it can be simpler to avoid eating grains altogether but there are gluten-free grains out there. Which makes it possible to find gluten-free granola. Yay!
Sorghum and rice are both true grains that are gluten-free. Buckwheat and quinoa are not true grains, although they are gluten free.
Is quinoa a cereal grain? 
Quinoa is technically not a grain but a seed belonging to a family of leafy plants, not grasses. By definition, cereal grains belong to the family of plants known as grasses. However, quinoa is generally grouped together with wholegrains and is an excellent gluten-free grain alternative. As well as being free of gluten, quinoa is high in protein and a great source of all nine essential amino acids. It also provides fibre, iron, vitamin E, potassium, calcium, magnesium and phosphorus.
Is granola cereal?
Granola is one of the most popular breakfast cereals around. Made from cereal grains it most certainly classifies as cereal. Often made with oats as a base, granola is now available in many forms beyond the classic oat/fat/sugar scenario. One of our most popular varieties is a gluten-free granola made with quinoa, rice, sorghum and buckwheat.
Buckwheat cereal
As a gluten-free option, cereal made from buckwheat is becoming increasingly popular. Like quinoa, buckwheat is actually a seed. It has a robust nutty flavour with a slightly bitter undertone and is, in fact, what soba noodles are made from.
Is cereal with almond milk healthy?
Although nutritionists agree on the benefits of cereal and milk for breakfast, and that dairy forms an important part of that particular nutritional combo, there is an increasing number of people turning to non-dairy milks such as almond milk. Commercial almond milk often has added ingredients in the form of fillers and preservatives. It can also have added sugar. It is however easy enough to make your almond milk at home with just almonds and water. Many shop-bought almond milks do have the benefit of being fortified with calcium and Vitamin D. Chipped and broken grades of Almonds can be a perfect way to buy these highly nutritional nuts for food ingredients where presentation of the kernel is not important.
Low-sugar cereals
The nutritional quality of your breakfast not only depends on choosing wholegrains but also making sure that you only opt for low-sugar cereals too. Many brands of wholegrain cereal will be full of added sugar, so again it is a matter of reading the label carefully.
Vegan cereal
Many cereals are vegan. Look for good quality varieties and always read the label. You can find out here what goes into the best granola. Usually it is the choice of milk that determines how vegan your breakfast is so stick with something like almond milk and you are good to go.
How much cereal should you eat for breakfast?
The recommended portion of cereal is 30g. The only way to be accurate with this is to weigh it. If you stick to the same cereal you can measure your weighed portion of cereal so that you do not need to weigh it every time. For a new cereal though, it is best to weigh it out.
Does eating cereal make you gain weight?
You shouldn't gain weight by eating cereal if you stick to the recommended portion size and always choose low-sugar varieties. There is some evidence that cereal can help to control weight. If it has plenty of fibre it can help to fill you up and satiate hunger, as well as control blood sugar levels and aid insulin resistance. It is also suggested that magnesium can help to burn calories more efficiently.
We have many healthy breakfast cereals to choose from and all of our muesli and granola is available to buy in bulk.
Apple Supreme Paleo by Plum Foods is delicious and tasty paleo muesli that includes a mix of real fruit pieces. Plum Foods produce healthy cereals. Apple supreme paleo is gluten-free and organic and contains no cereal grains. The Apple Supreme Paleo is perfect for healthy breakfasts. It is often treated as a good snack food.
You can have the Apple Supreme Paleo with milk, almond milk, fresh fruits or yoghurt. This unique Gluten Free breakfast cereal suits the paleo diet and is a low sugar cereal as it contains no added sugar and other artificial preservatives. Its fruit aroma will melt your heart. Apple supreme paleo comes in a foil lined pack with zip re-seal in order to keep hold of its freshness.
Apple supreme paleo 500g is quite popular among healthy cereals in Australia.
For more information, visit our site. Buy apple supreme paleo now and get online discounts on this product.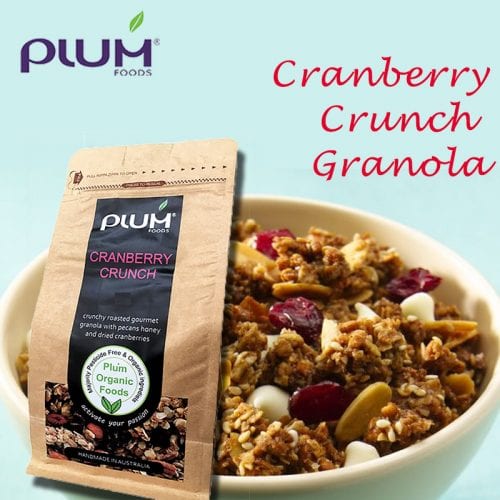 Cranberry Crunch Organic Granola, a healthy breakfast cereal by Plum Foods, is On Sale as a monthly Special right now at $8 per large 1kg pack at operafoods.com.au
Our Cranberry Crunch is a majority organic ingredient granola. Manufactured in Sydney by Plum Foods, this is a really crunchy and crispy granola. Plum Foods want consumers to get to know some of their other granola products (we  are famous for Maple Nut Crunch), so they are offering an introductory deal to see if you like this variety.
You can make an easy breakfast with Cranberry Crunch granola. Cranberry Crunch granola contains no sugar or artificial preservatives.  Cranberries contain phytonutrients particularly proanthocyanidin antioxidants that are important for all-round wellness. Berries provide several health benefits including protection from urinary tract infection, tooth cavities and inflammatory diseases. Our whole food natural ingredients are majority either organic or pesticides free. Cranberry crunch granola is a stable mate to one of the best selling breakfast cereals in Australia.
Cranberry Crunch granola is foil lined pack with zip seal in order to keep freshness. Cranberry crunch granola 1kg is perfect for large families or cafes whereas cranberry crunch granola 500g is ideal for home use.
Visit Opera Foods online gourmet store to know more information about the granola products. Book your favorite product now and get online discounts on this product.
Plum Foods manufactures great healthy cereals and our Spelt and Agave Nut Crunch organic granola is very popular among those that taste crunchy and crisp. Spelt and Agave Nut Crunch organic granola is a healthy and nutritious breakfast cereal that is easy and quick to make. It is majority organic and contains no added sugar and artificial stuff in it. It could be simply served with milk, almond milk, fresh fruits and or yogurt.
Spelt and Agave Nut Crunch organic granola contains whole meal spelt flour, organic oats, high oleic sunflower oil, agave syrup, sunflower seeds, maple syrup, insecticide free almonds, cinnamon essence, cardamon, walnuts, currants, sea salt and vanilla spices. It is rich in protein, fiber, minerals, vitamin E that will help to prevent against illness.
Plum foods offers majority organic and Australian products which are produced and packed under the HACCP certified conditions. Order your favorite healthy breakfast cereal product direct from our Online Store and grab some great discounts.
Plum Foods manufacture healthy breakfast cereals including muesli, rolled oats, and granola that helps to sustain energy and resist against illness. The brand of Plum foods delivers award-winning superior quality breakfast cereals. Plum Foods have won gold medals at an international Great Taste Awards.
They supply majority organic and pesticide free ingredient products at an affordable price. Although we do not pay for certification of our products Plum utilizes only certified organic oats as well as insecticides free Australian almonds and other organic produce for the bulk of the ingredients by volume.
Wholesale Granola is regarded as a superior source of protein and healthy fats that are made from seeds, oils, and nuts. It is also regarded as a healthy breakfast cereal. Granola can be of different flavors such as Maple Nut Crunch, Apple Supreme Paleo gluten-free, Cranberry Crunch, Spelt and Agave Nut Crunch and more.
Granola can be served with almond milk, milk, fresh fruit, yogurt and more toppings sold under our sister brand Boost Nutrients. Granola helps to lower blood sugar and cholesterol level as it is rich in the right fats. It will also help to decrease heart diseases, as well as other inflammatory conditions. Granola is rich in most minerals that may help to produce connective tissues, red blood cells and more.
Buy it online at parent company store Opera Foods.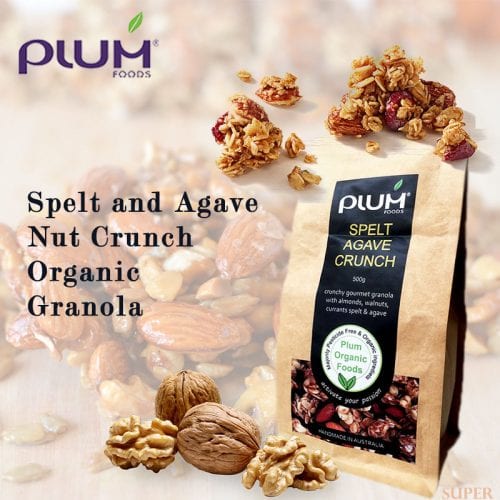 Spelt and Agave Nut Crunch organic granola is one of the crunchiest granola products out there. It is manufactured by Plum Foods Australia brand. Plum Foods are focused on being nutritious cereal producers as well as premium granola suppliers with majority organic ingredients. We deliver overnight to Melbourne, Brisbane, and Sydney. The Spelt Agave Nut Crunch granola is quick as well as an easy nutritious whole food breakfast.
Our Spelt and Agave Nut Crunch organic granola is regarded as a nutritious gourmet granola that is low in suger with no added sugar. It is comprised of wholemeal spelt flour, organically grown oats, oleic sunflower oil, agave syrup, sunflower seeds, maple syrup, pesticides free almonds, currants, walnuts, sea salt as well as vanilla spices. Organic granola contains vitamin E, protein, fiber and it provides certain health benefits. The health benefits of consuming low GI healthy and crunchy granola include low cholesterol levels, increases energy, resist anemia and many more.
But it online from parent company Opera Foods who also distribute our healthy cereals to independent grocers.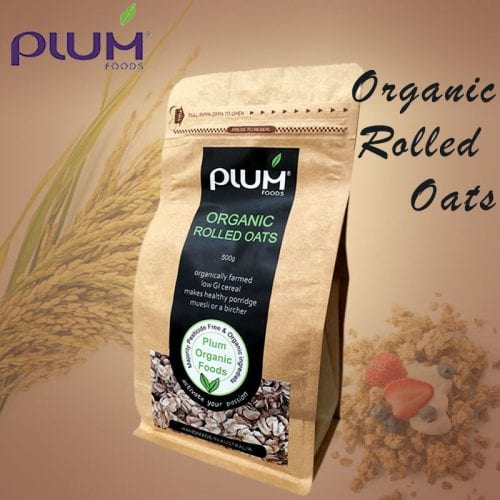 Organic rolled oats is a leading product of Australian cereal manufacturer Plum Foods  that is grown organically. Organic rolled oats are rich in fiber as well as antioxidants they are among the best organic cereals.
According to the researcher, oats are considered as the healthiest breakfast cereal in Australia and is very low in gluten. Whilst Organic oats are not totally gluten free, Oats is very low in gluten and even some coeliacs can tolerate it. The researchers have suggested that people should have oaten porridge at breakfast as it increases the stamina of an individual. Organic rolled oats can be grown in cool, respective moist climate and it is suitable to grow in any type of soils that contain alkaline between 5.5 as well as 7.0. Organic rolled oats are grown pesticides free and it does not contain any respective chemical residues. Organic rolled oats are rich in fiber; therefore, it helps to lower cholesterol levels of an individual.
Plum Foods are wholesale granola manufacturers who pack and produce their own products. All our products have majority organic and/or insecticide-free ingredients which will help you in maintaining your healthy breakfast cereal diet. Buy Plum Foods organic oats here.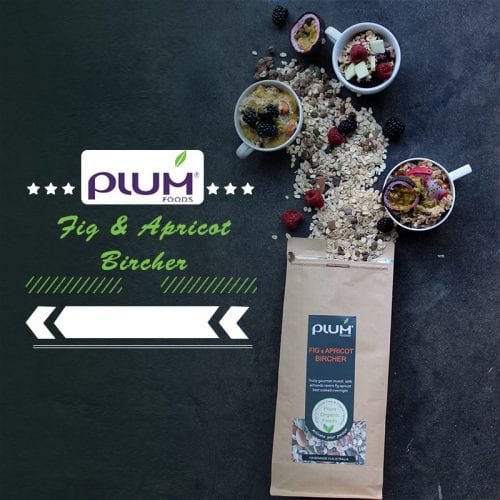 Plum Foods offers to satisfy crunchier breakfasts for discerning food lovers. Granolas are healthy, homemade, comforting and a delicious dish for working moms. They are super crunchy and gluten-free which makes them desirable among people of all ages.
Plum foods offer a great range of gourmet granola products such as Maple Nut Crunch Granola, Fig, and Apricot Bircher Muesli (pictured), Cranberry Crunch Granola and even paleo breakfast. Our product does not include artificial colors or hydrogenated oils but they are made up of majority organic ingredients great granolas and muesli of the best quality.
We are manufacturers and deliverers of healthy breakfast cereals such as wholesale Granolas & Muesli. We also have a long-established brand for Muesli products called the Mulberry Tree. Visit our online store or call us for wholesale delivery details.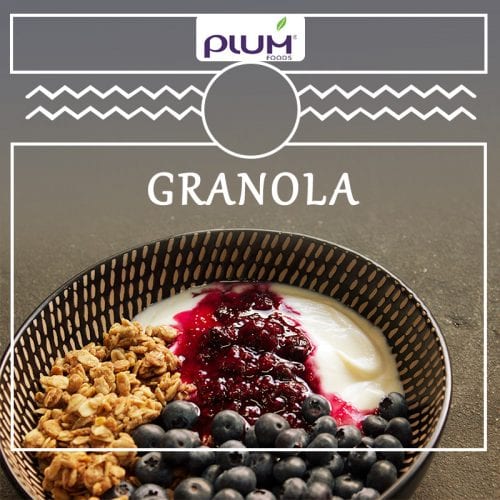 Granola and Muesli are healthy breakfast cereals which come under the category of "eat it like you would" because of the different possible ways and combinations you can have it. You can cook them and turn them into porridge, or soak them overnight and add sliced fresh fruits and dried fruits. Granola bowls and Smoothie bowls can be gluten-free when not made with rolled oats. We offer some Gluten free  products with natural Australian ingredients which are manufactured under HACCP certified conditions.
Plum Foods is a gourmet granola and muesli brand, where you can find different types of healthy breakfast cereals. You can visit our online gourmet grocery shop to find more. We also offer a different brand called Mulberry Tree to promote our Muesli products there. Opera Foods are the granola suppliers and parent company which deals in all types of gourmet products and mostly our own brands. For wholesale bulk delivery to retailers, we suggest you visit our wholesale granola hub at Opera Foods.