Crunchy Crispy Granola in the Morning Makes My Day More Happening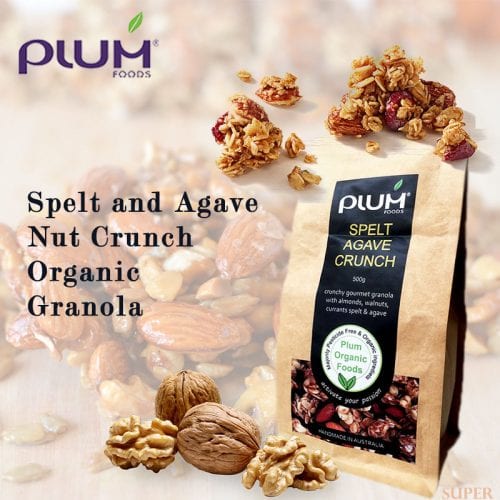 Spelt and Agave Nut Crunch organic granola is one of the crunchiest granola products out there. It is manufactured by Plum Foods Australia brand. Plum Foods are focused on being nutritious cereal producers as well as premium granola suppliers with majority organic ingredients. We deliver overnight to Melbourne, Brisbane, and Sydney. The Spelt Agave Nut Crunch granola is quick as well as an easy nutritious whole food breakfast.
Our Spelt and Agave Nut Crunch organic granola is regarded as a nutritious gourmet granola that is low in suger with no added sugar. It is comprised of wholemeal spelt flour, organically grown oats, oleic sunflower oil, agave syrup, sunflower seeds, maple syrup, pesticides free almonds, currants, walnuts, sea salt as well as vanilla spices. Organic granola contains vitamin E, protein, fiber and it provides certain health benefits. The health benefits of consuming low GI healthy and crunchy granola include low cholesterol levels, increases energy, resist anemia and many more.
But it online from parent company Opera Foods who also distribute our healthy cereals to independent grocers.