How To Choose The Best Healthy Granola For Breakfast?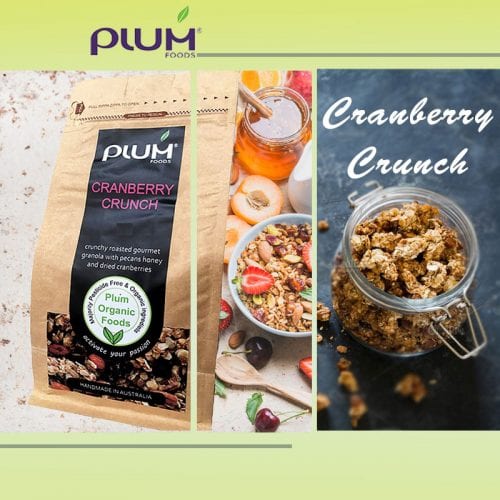 Granola has gained popularity over the last decade or so as one of the healthy breakfast cereals in Australia. But not all granola brands are healthy even though it might seem delicious to you. Hence you have to be very careful while choosing the recipe as well as the brand to include healthy granola in your breakfast diet. Granola is e a great source of whole grains, fiber, protein and vitamins.
All our products here at Plum Foods are a perfect mixture of organic oats, pesticide free almonds as well as other seeds and nuts and dried fruit with no added sugar. The uniqueness of our products has helped us to be recognized globally and have also been awarded gold medals at the Great Taste awards of UK.
The Cranberry crunch granola is a quick and easy breakfast meal which is low sugar. Cranberries are rich in phyto-nutrients like which are essential for the all round wellness of our body. Plum Foods offers 1kg Cranberry Crunch Granola which is perfect large families while the 500gm pack is ideal for most retail sales.
Plum Foods are healthy cereal suppliers of gourmet muesli, grocery retailers and wholesale granola breakfast cereals. Check our online store for more details.