Jumbo Oats 5 Grain A Uniquely Nutritious Porridge Cereal Breakfast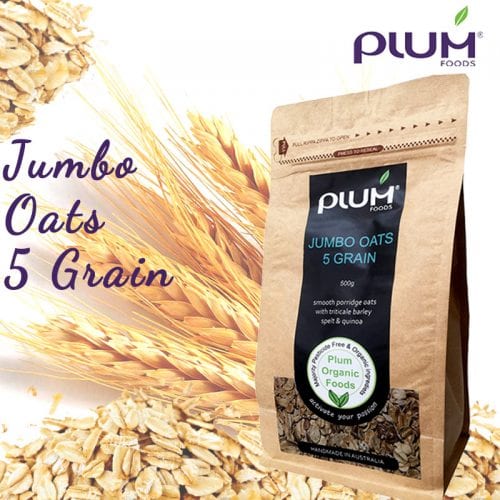 Jumbo Oats 5 Grain is a unique and delicious porridge breakfast cereal product from the Plum Foods brand. Plum Foods are the manufacturers and distributors as well as wholesale muesli suppliers to many Australian independent grocers and fresh retailers. Our distribution company Opera Foods is also part of this Australian family business.
Plum Foods consume natural wholefood elements for the production of nutritious cereals. Jumbo Oats 5 Grain is made up of different varieties of grain such as rolled barley, organic rolled oats, rolled spelled wheat, rolled quinoa as well as rolled triticale. It is rich in protein, fats, carbohydrates, sugars, sodium that helps to sustain your day.
It makes a beautiful nutritious porridge that  is considered as an ideal food for morning breakfast. Porridge is regarded as a classic nutritious cereal that strengthens the energy throughout the day. To make your porridge into a nutrition powerhouse you can add super-food ingredients from Opera Foods' Boost Nutrients brand
Plum Foods offer a large variety of diverse recipes for Granola and Muesli that are majority organic or pesticide free. We also have another specialist brand called Mulberry Tree which deals simply wholefood Muesli and Granola only.
To Order products, in bulk, you can visit our parent company Opera Foods and avail great discounts and offers.