Order Crunchy Clusters of Granola to Make Your Breakfast Satisfying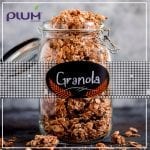 Granola is a healthy breakfast cereal which is similar to Muesli in texture and shape but is healthier and tastier when compared to the former. Granola bowl with yogurt is highly rated as a good energetic morning breakfast among health-conscious people. They are a great source of fiber, vitamins, proteins, and essential nutrients which are required by our body. Granola also serves as a quick and easy-go-to meal while adding other nutrients having a busy and a hectic day. All our granola products are wholefood ingredients with no added sugar-which makes us stand out from the rest.
Plum foods manufacture healthy breakfast cereals and different kinds of granola and muesli. We manufacture and deliver products overnight in Sydney, Melbourne & Brisbane and promptly to other regions. Our granola products like Cranberry Crunch Granola and Maple Nut Crunch Granola have also won a gold medal at the Great Taste Awards.
Plum Organic Foods Pty Ltd and Plum Foods Australia Pty Ltd are wholesale granola supplier subsidiaries of Australian wholesale food suppliers Opera Foods.