What is Bircher muesli and how easy is it to make?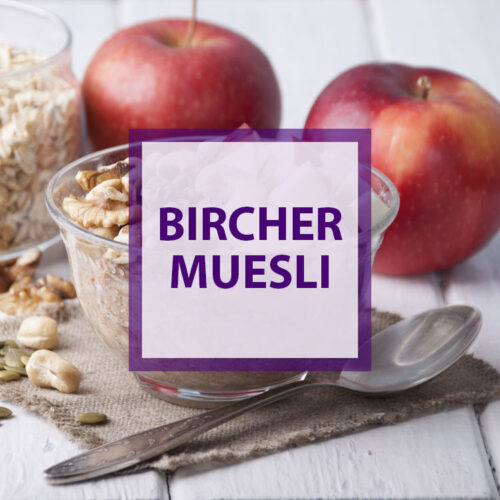 The forerunner to overnight oats, Bircher muesli is a healthy breakfast favourite.
The soaked oats take on a softly different texture to porridge, in a dish that is easy to eat and easy to digest. Which is ideal for the first meal of the day.
Closely related to both muesli and granola, it can be oddly decadent in spite of its wholesome credentials.
What is Bircher muesli?
Bircher muesli was created in the early 1900s by Maximilian Bircher-Brenner. A Swiss doctor, he created the recipe as a way of getting more fruit into his patients. More specifically, apples, which he considered particularly nutritious. A simple recipe of oats, milk, nuts and apples soaked together overnight, it was a soft and easily digestible breakfast for his sanitorium patients. So of course Bircher Muesli is another one of the low sugar cereal products.
Is Bircher muesli healthy?
Like most foods, it can only be as healthy as the ingredients that you make it with. Made with cream and lots of nuts it will be more heavy on calories than if you soak it in water. Made with the four basic ingredients, this healthy breakfast comes with a range of benefits.
Oats are full of fibre, some of which is soluble, that gives an extended feeling of fullness and prevents blood sugar spikes. Magnesium present in oats helps to regulate insulin secretion and they also contain a natural sedative. With plenty of vitamins and minerals, oats are a great source of all round goodness.
Maximilian was right about apples; an often overlooked fruit. They also help to regulate blood sugar levels and are a source of soluble fibre. Many of the compounds found in apples improve metabolic balance. Always eat the skin as it contains fibre and may help prevent osteoporosis. Apples are waxed for shelf life, so wash them thoroughly in warm soapy water and rinse well before eating. Allowing the apple to brown a little after grated can help it become more easily digestible. Apples are also a source of vitamin C and iron.
Adding nuts increases the protein content as well as the fibre. Always eat nuts with the skin on to keep the nutrient profile intact. Nuts also provide many essential fatty acids. Almonds are rich in zinc, magnesium, and potassium as well as antioxidant vitamin E. Hazelnuts are rich in antioxidants and contain biotin, a substance that is really good for strong healthy skin and hair.
Using dairy milk, from cows, sheep, or goats, adds the benefit of calcium and vitamin D. Dairy foods also provide vitamin B12 which is essential for a healthy brain and nervous system. Vitamin B3 in dairy milk can also help to burn more calories. Choose full fat milk as it retains the fat soluble vitamins A, D, E and K.
Can you eat Bircher muesli without soaking?
Bircher muesli by default is soaked. Not soaked, it becomes, well, muesli. The soaking process not only makes the oats more digestible by softening them, but helps to break down a substance called phytic acid. Present in all grains (which is why grains are not part of a Paleo diet), phytic acid binds to certain minerals and reduces the uptake of minerals present in the food. You can also include the nuts in the soaking process for the same reason, but they do take on a softer less crunchy texture.
Is Bircher muesli gluten free?
Oats themselves are not gluten free yet low in gluten and are often processed alongside wheat and other cereals so tend to be avoided by those with serious issues around gluten, such as coeliacs. Oats that are not 100% gluten free although some are  labelled as such, and some commercial muesli blends will contain other gluten-containing cereals.
How to make Bircher muesli
Bircher muesli is made by soaking oats in a liquid overnight, and then adding grated apple and nuts. It will keep in the fridge for about 3 days and can be frozen if required.
Vegan Bircher muesli
Making this soft creamy breakfast vegan is easy. Simply use juice, water or non-dairy milk. Nutty almond milk works particularly well, as does creamy oat milk.
Paleo Bircher muesli
Strictly speaking, the Paleo diet is open to personal interpretation depending on the foods you feel your body can tolerate. But in general, whether they contain gluten or not, grains are eliminated from the Paleo diet. You could experiment with some combination of coconut flakes, almond meal, and chia seeds but the results will be a vague approximation rather than a substitute. We think you are far better off with Paleo muesli or granola of nuts, seeds and fruits instead.
Basic Bircher muesli recipe
Soaked overnight, it becomes a soft and simple moreish thing. For the liquid you could use water, apple juice, milk, or for a touch of luxury, mix of half milk/half cream. The classic nuts would be hazelnuts, but you could use almonds, pecans, or walnuts.
You could make bircher muesli with our multigrain porridge oats, or try a bircher muesli mix instead of just oats.
Serves 1
25g oats
90ml liquid
1 apple, coarsely grated
1/4 cup nuts, chopped
Mix the liquid with the oats and soak in the fridge overnight.
Stir in the grated apple.
Top with the nuts and enjoy.
Have you tried Bircher porridge? Make it just like you would regular porridge, but use a Bircher muesli like our Hinterland Bircher Muesli. It's ideal for winter and packed full of yummy things that will make your morning porridge a bit more interesting.
Bircher muesli not your thing? Here's some of our other low sugar cereals.  Or head on over to our online gourmet grocery stores where you can buy healthy cereal in bulk.