The benefits of cereal and milk for breakfast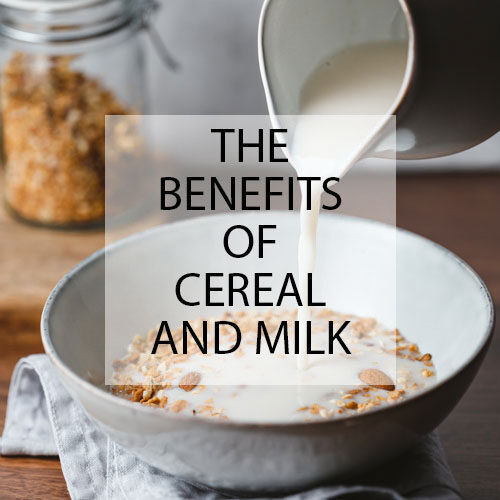 The benefits of cereal and milk for breakfast, with a portion or two of fruit added, are widely accepted within the nutritional community.
In our article 'what is a healthy breakfast' we saw that a healthy breakfast is composed of –
A 30g serving of wholegrains
A 150g portion of fruit
A 250ml serving of milk
So, it is all good to go on that granola!
Why are cereals important in our diet?
The question of the importance of cereals in our diet is a divisive one. Partly carbohydrate conundrum, with issues of gluten involved, and concern over phytic acid thrown in, the eating of grains is certainly a contentious topic. Largely, we agree on the fact that over-consumption of refined grains can lead to health problems. Yet there are many benefits associated with wholegrains.
Wholegrains are the seeds of grass type plants called cereals. Rice, wheat and sorghum are all grains. Buckwheat and quinoa are pseudo-cereals. Intact, with minimal processing, they contain a wide range of minerals, vitamins, fibre, fat, protein and carbohydrate.
A regular diet of wholegrains may help to lower the risk of heart disease and stroke and regulate blood sugar levels. Wholegrains are excellent for digestive health because they are full of fibre. Grains are also a comparatively low cost food, providing bulk to our diet.
Gluten-free cereal
For those of us with coeliac disease or gluten intolerance it can be simpler to avoid eating grains altogether but there are gluten-free grains out there. Which makes it possible to find gluten-free granola. Yay!
Sorghum and rice are both true grains that are gluten-free. Buckwheat and quinoa are not true grains, although they are gluten free.
Is quinoa a cereal grain? 
Quinoa is technically not a grain but a seed belonging to a family of leafy plants, not grasses. By definition, cereal grains belong to the family of plants known as grasses. However, quinoa is generally grouped together with wholegrains and is an excellent gluten-free grain alternative. As well as being free of gluten, quinoa is high in protein and a great source of all nine essential amino acids. It also provides fibre, iron, vitamin E, potassium, calcium, magnesium and phosphorus.
Is granola cereal?
Granola is one of the most popular breakfast cereals around. Made from cereal grains it most certainly classifies as cereal. Often made with oats as a base, granola is now available in many forms beyond the classic oat/fat/sugar scenario. One of our most popular varieties is a gluten-free granola made with quinoa, rice, sorghum and buckwheat.
Buckwheat cereal
As a gluten-free option, cereal made from buckwheat is becoming increasingly popular. Like quinoa, buckwheat is actually a seed. It has a robust nutty flavour with a slightly bitter undertone and is, in fact, what soba noodles are made from.
Is cereal with almond milk healthy?
Although nutritionists agree on the benefits of cereal and milk for breakfast, and that dairy forms an important part of that particular nutritional combo, there is an increasing number of people turning to non-dairy milks such as almond milk. Commercial almond milk often has added ingredients in the form of fillers and preservatives. It can also have added sugar. It is however easy enough to make your almond milk at home with just almonds and water. Many shop-bought almond milks do have the benefit of being fortified with calcium and Vitamin D. Chipped and broken grades of Almonds can be a perfect way to buy these highly nutritional nuts for food ingredients where presentation of the kernel is not important.
Low-sugar cereals
The nutritional quality of your breakfast not only depends on choosing wholegrains but also making sure that you only opt for low-sugar cereals too. Many brands of wholegrain cereal will be full of added sugar, so again it is a matter of reading the label carefully.
Vegan cereal
Many cereals are vegan. Look for good quality varieties and always read the label. You can find out here what goes into the best granola. Usually it is the choice of milk that determines how vegan your breakfast is so stick with something like almond milk and you are good to go.
How much cereal should you eat for breakfast?
The recommended portion of cereal is 30g. The only way to be accurate with this is to weigh it. If you stick to the same cereal you can measure your weighed portion of cereal so that you do not need to weigh it every time. For a new cereal though, it is best to weigh it out.
Does eating cereal make you gain weight?
You shouldn't gain weight by eating cereal if you stick to the recommended portion size and always choose low-sugar varieties. There is some evidence that cereal can help to control weight. If it has plenty of fibre it can help to fill you up and satiate hunger, as well as control blood sugar levels and aid insulin resistance. It is also suggested that magnesium can help to burn calories more efficiently.
We have many healthy breakfast cereals to choose from and all of our muesli and granola is available to buy in bulk.