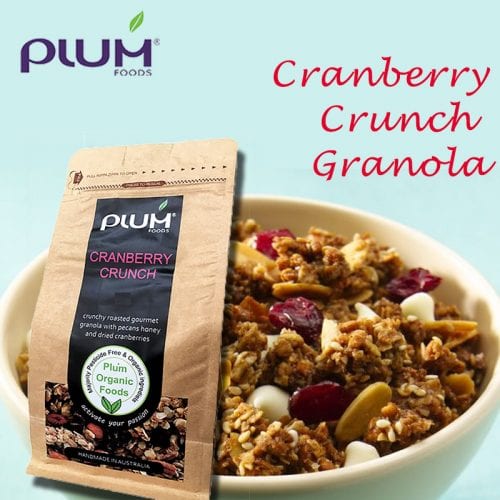 Cranberry Crunch Organic Granola, a healthy breakfast cereal by Plum Foods, is On Sale as a monthly Special right now at $8 per large 1kg pack at operafoods.com.au
Our Cranberry Crunch is a majority organic ingredient granola. Manufactured in Sydney by Plum Foods, this is a really crunchy and crispy granola. Plum Foods want consumers to get to know some of their other granola products (we  are famous for Maple Nut Crunch), so they are offering an introductory deal to see if you like this variety.
You can make an easy breakfast with Cranberry Crunch granola. Cranberry Crunch granola contains no sugar or artificial preservatives.  Cranberries contain phytonutrients particularly proanthocyanidin antioxidants that are important for all-round wellness. Berries provide several health benefits including protection from urinary tract infection, tooth cavities and inflammatory diseases. Our whole food natural ingredients are majority either organic or pesticides free. Cranberry crunch granola is a stable mate to one of the best selling breakfast cereals in Australia.
Cranberry Crunch granola is foil lined pack with zip seal in order to keep freshness. Cranberry crunch granola 1kg is perfect for large families or cafes whereas cranberry crunch granola 500g is ideal for home use.
Visit Opera Foods online gourmet store to know more information about the granola products. Book your favorite product now and get online discounts on this product.