Organic Rolled Oats
now browsing by tag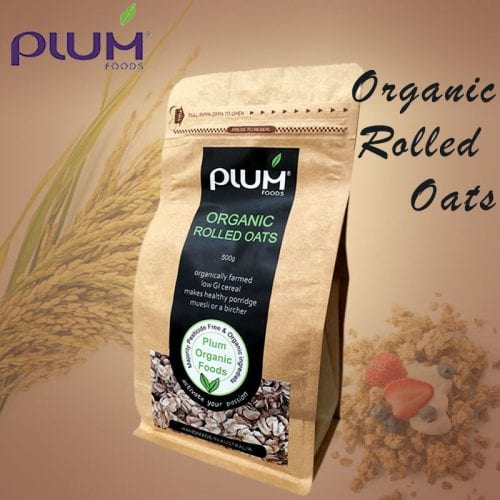 Organic rolled oats is a leading product of Australian cereal manufacturer Plum Foods  that is grown organically. Organic rolled oats are rich in fiber as well as antioxidants they are among the best organic cereals.
According to the researcher, oats are considered as the healthiest breakfast cereal in Australia and is very low in gluten. Whilst Organic oats are not totally gluten free, Oats is very low in gluten and even some coeliacs can tolerate it. The researchers have suggested that people should have oaten porridge at breakfast as it increases the stamina of an individual. Organic rolled oats can be grown in cool, respective moist climate and it is suitable to grow in any type of soils that contain alkaline between 5.5 as well as 7.0. Organic rolled oats are grown pesticides free and it does not contain any respective chemical residues. Organic rolled oats are rich in fiber; therefore, it helps to lower cholesterol levels of an individual.
Plum Foods are wholesale granola manufacturers who pack and produce their own products. All our products have majority organic and/or insecticide-free ingredients which will help you in maintaining your healthy breakfast cereal diet. Buy Plum Foods organic oats here.
Organic rolled oats are a great source of energy and a healthy breakfast cereal that is very high in antioxidants. The Organic Rolled Oats of Plum foods brand is natural organically grown oats . Our organic oats grown in the best growing conditions along with amazing climatic conditions. They are pesticide free and do not contain any chemicals as preservatives it is completely organic. Rolled oats are filled with fiber and hence keep the cholesterol levels in a check.
Organic Rolled Oats – Gluten Free?
Is oats gluten free?. NO it is not. Many retailers falsely claim this . It is very low in Gluten and some coeliacs can tolerate it. but oats is not entirely Gluten free.
Most health professionals recommend, including cereal grains as a part of our diet. Oats are one of the healthiest grains in the earth. Having oaten porridge on a daily basis also increases your stamina as it is a low GI food source. Its high fiber content can reduce constipation. Oats Porridge is a nutritious way to start your day it improves your metabolism and reduces the calorie intake.
Plum foods are healthy breakfast cereal producers in Australia. We specialize in gourmet granola and muesli products.
Buy Organic Rolled oats from our group online store. We are a label brand of Opera Foods, a wholesale food suppliers to  Sydney, Melbourne, and Brisbane.